Messages

5,203
Location
Real Name

Brett
eBay User
Hey guys,
In the last couple of weeks busted a few of my favourties Prizm and Totally Certified but with a marriage and overseas trip coming up time to stop busting as much.
With that in mind I couldn't not bust anything today.
Went with another Batman Legend Box
As we busted one box of Marvel and Batman a couple of days ago. Did very well getting a case HIT from Marvel, my partners son pulled it and was ecstatic.
Then my partner soon to be wifey pulled the Comic cover auto so 2 hits

Today we busted another Batman, love the foil cards and insert in this set.
Busted a nice sketch too this time it was my MOJO time

First up the hits from the other day
Spencer Platt sketch (Who is it of though????)
Then Marvel Beginnings III
Fabian Nicienza auto
and this 1 in 288 pack card
Marvel Ultimate Spotlight
Piece of real comic numbered to just 44, some numbered to 78 etc.
From the Comic The Spider Woman Vol 1 Issue 32
Numbered 28/44
Then today we busted another Batman
First up show you a foil card
1 in 8 packs
Then Carnival of Criminals insert 1 in 24 packs
Got 2 out of each of our boxes so was happy with that
"The Clown"
and last but not least
The Sketch I busted in the last pack, thought we were ripped a HIT
Nice sketch from Anthony Wheeler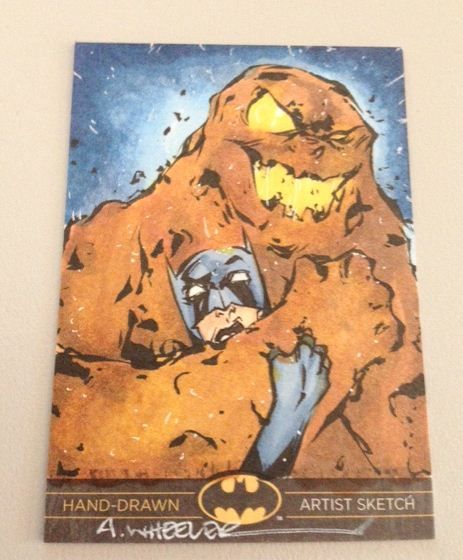 All for trade and sale

Hope everyone is busting some cool cards today and having a great day