Managed to pick up a collection of 90s cards from a guy in the same city as me who I met the other day. Bought it not quiet sight unseen but had only had a quick scan through one album and all I knew was he like collecting 90s inserts it was a bit of a risk.
Unfortunately it contained non of the real monster 90s insert sets (not surprisingly) but Given that I got the 1300+ card collection for less than the cost of a box of Hoops I figured I didn't do too badly.
A few random stats and pics (apologies for my always poor photography) after collating and sorting it all.
Jordan's: 162 - count is blown out in that there was a full 1999 60-card commemorative set and a set of the A Cut Above from 1996-97. Nice selection of base and low to mid range inserts though with a selection below. The count doesn't include some Space Jam cards featuring Jordan or 3 Tazos also with images from Space Jam.
Rookie Cards: 96 - not much amazing but includes 1 x Payton, 3 x Kemp, 2 x Rice, 1 x Webber, 1 x Penny, 5 x Hill, 5 x Kidd, 2 x Garnett (plus a silver signature of his Collectors Choice RC), 2 x Ray Allen, 3 x Iverson and 4 rookie year cards of this guy...
As mentioned the collection was loaded with inserts of both some random 90s greats - go go Cherokee Parkes, Sharon's Wright, Bryant Reeves etc - but also a whole bunch of Hall of Famers.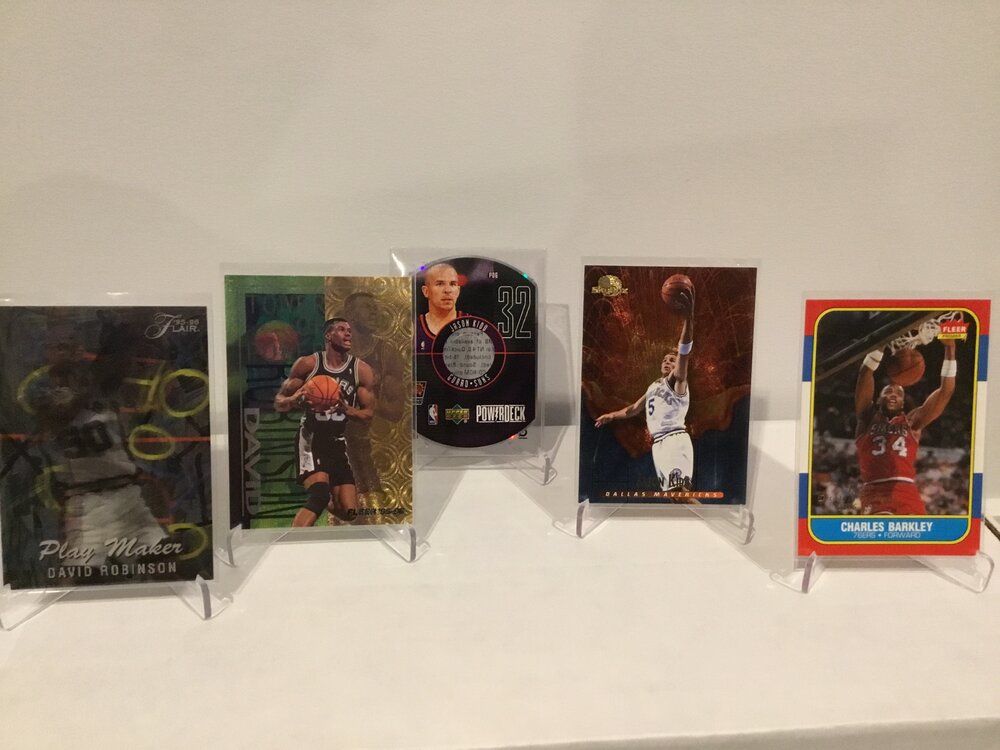 And last but not least for me from a PC perspective I was especially pleased to add 4 more Olajuwon I did not have.
Was a lot of fun to sort through and filled in the best part of a week of evenings. Just need to get the Hall of Fame guys into albums now then I can move on to sorting the 6 months worth of Olajuwon which turned up from Sportlots yesterday!
If anyone is interested in the full collection including all the exciting base(!) you can check it out in this link.
Thanks to all who made it this far!