May 31, 2020
21
18
Real Name

Nathan
eBay User
COMC User
A few notes to start:
1. This is my first time selling on here. Bear with me and let me know if I am doing anything wrong.
2. I live in the US and that is where these cards are located. Shipping isn't cheap, for a basic padded mailer it would be around US$13. It gets more expensive from there. You probably already know that. Due to this I am selling in lots, not as individual cards.
3. I sell on eBay, COMC, Twitter & BO Forums but since I am new here I am open to figuring out a "I ship first" or "Escrow" type arrangement based on your good standing on this site.
4. I will post prices in both US dollars and Australian dollars. You can pay either way, which ever is less expensive for you.
5. The scans are not perfect so if you would like better photos of any cards, please let me know.
5. I have a bunch more stuff to sort through but this kinda of a test run, so I hope it goes well.
1997 The Sports Shaq / Intrepid Super League Set #'ed: 1991/3000
18 card set (including Certificate of Authenticity and The Sports Shaq card)
Includes promo card pictured in scan
Includes misc. rugby league pogs/Fatty's Turn it Up pictured in scan
Price: AUD$110 / USD$80
Price: AUD$100 / USD$72
Shipping:
AUD$18 / USD$13 from US to Australia
AUD $5 / USD $4 to ship to domestic US address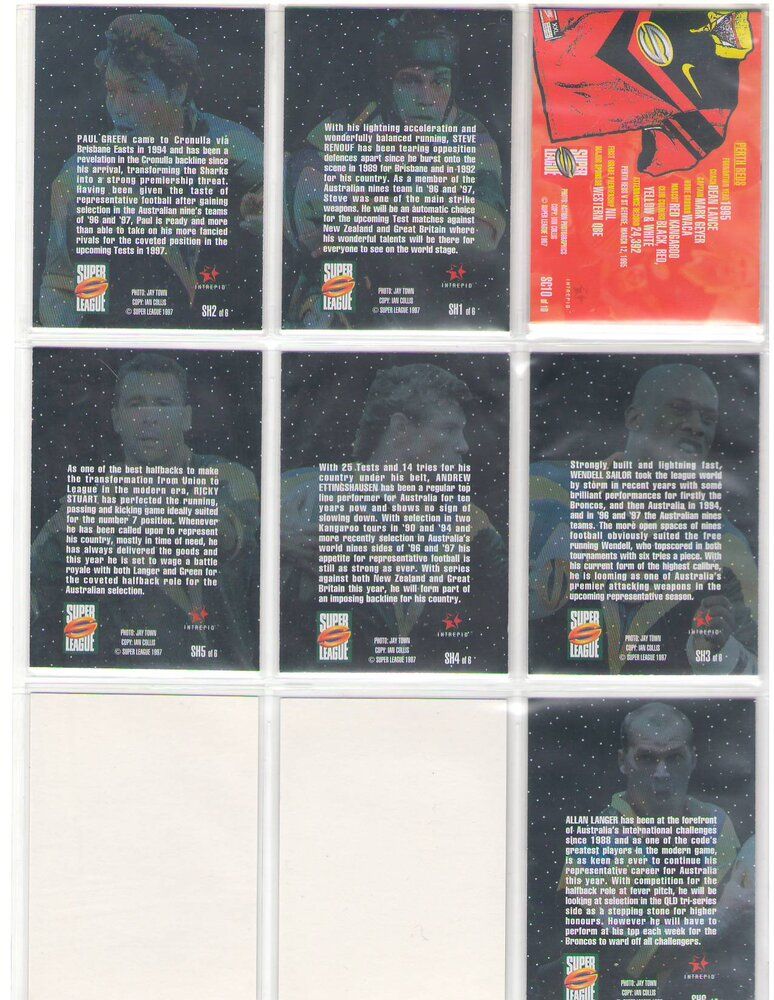 Last edited: