Messages

3,502
Location
Real Name

Trevor
Put together the usual Xmas break with the family, Black Friday sale stuff and a few other boxes I wanted to try (or try again !!). Really happy with how I did.
First off, some cheap Game Of Thrones S6 and a box of Outlander. Did okay in each, got a few new GoT auto's I didn't have and the Outlander box was decent with an inscription/art signature and a bonus dual wardrobe.
Bought a box each of Arrow S2, S3 and S4. Again happy with the results, a couple of good auto's a nice plate and another bonus dual wardrobe!
Had another go at Game of Thrones Vallyrian Steel. Got a few dupes, but still managed to get a couple of auto's I didn't have, as well as another dual. Stoked to get the Daenerys relic as this one looks to be the rarest of them. Not shown is the Night King's brooch as it's a bugger to scan! ;-)
Of course it wouldn't be Christmas without Star Wars. Went a box of evolution, Galactic Files Reborn and two of Masterworks. I can always make room for another Chewie auto, especially a /10 !
The GFR auto wasn't a total loss either as it's the ROTJ Bib Fortuna, so a PC hit for me. But I also got a sketch by Andy Fry that is very nice.
Masterworks auto's weren't much chop, the dual is probably the highlight. But at least the sketches made up for it, 2 really decent ones including an incredible wood sketch of Obi Wan by Dan Gorman and a neat Yoda by Ted Dastick Jr. Medallions and a bonus cel hit.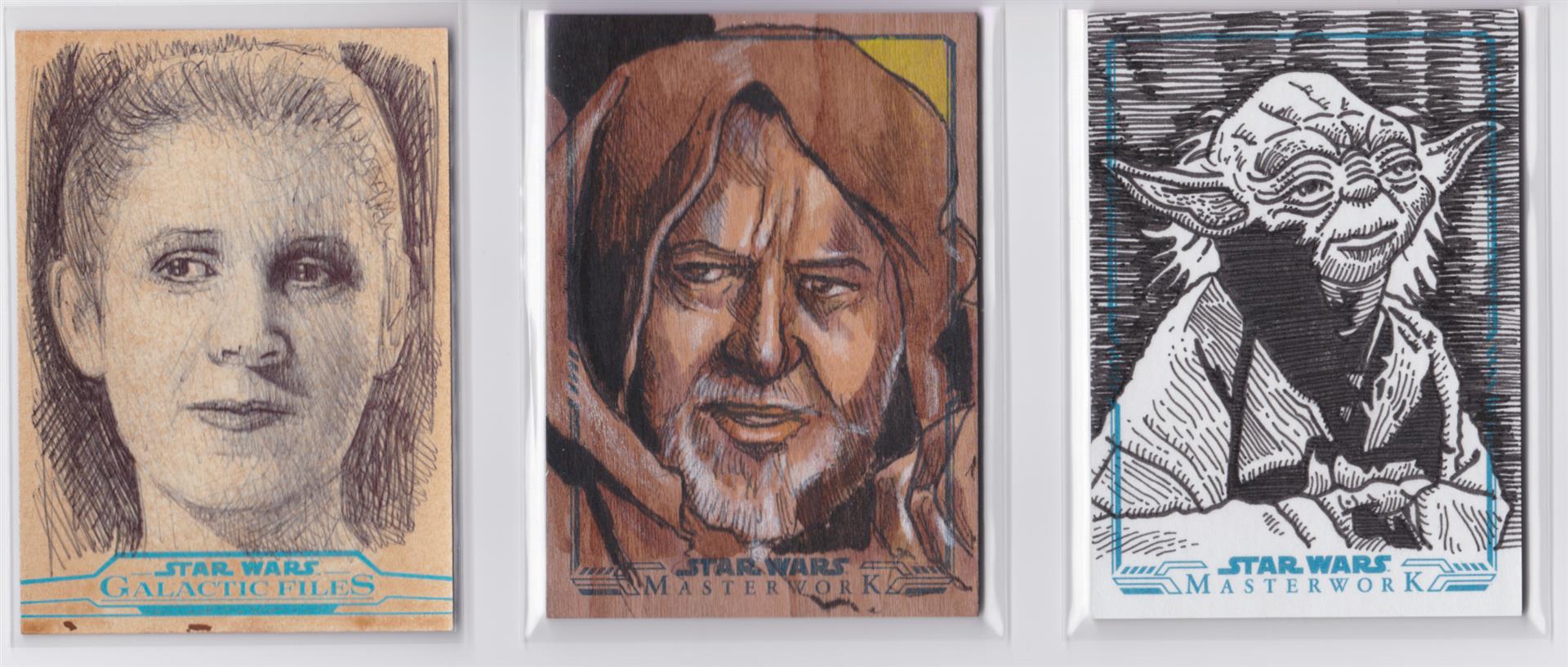 Lastly, I'm not a huge Doctor Who fan, but I did like the first few series of the new version. But have been wanting to get myself a Billie Piper auto for a few years now (after that and Secret Diary !), but they're usually US$200+ so a bit rich.
Saw that the Doctor Who signature series were on special, so thought I'd give it a go. So I got 2 boxes which is actually only 8 packs with an auto in each pack. I think I did okay...
A /10 and a /50 !!!! Unbelievable!
As my nephew said as he pulled the second one "Santa must have thought you've been really good this year !" LOL!
So a good fun afternoon of card breaking with some great results. Hope everyone is having a great Christmas!