So one of my projects that I started is titled the "Career Transitions Project". Essentially, I pick a player that suited up for a few teams and obtain an auto of each of that player in each of those jerseys.
Volume 1 is none other than
Tracy "T-Mac" McGrady
.
1. Toronto Raptors
Tracy McGrady was drafted 9th overall by Toronto in the 1997 NBA draft (behind guys like Tim Duncan, Chauncey Billups, Ron Mercer and ahead of an Australian by the name of Chris Anstey) and eventually being paired up with his distant cousin - Vince Carter to become a highlight filled duo on the other side of the border.
McGrady lasted 3 years in Canada, largely due to a lack of opportunity - starting only 53 out of 192 games in this period.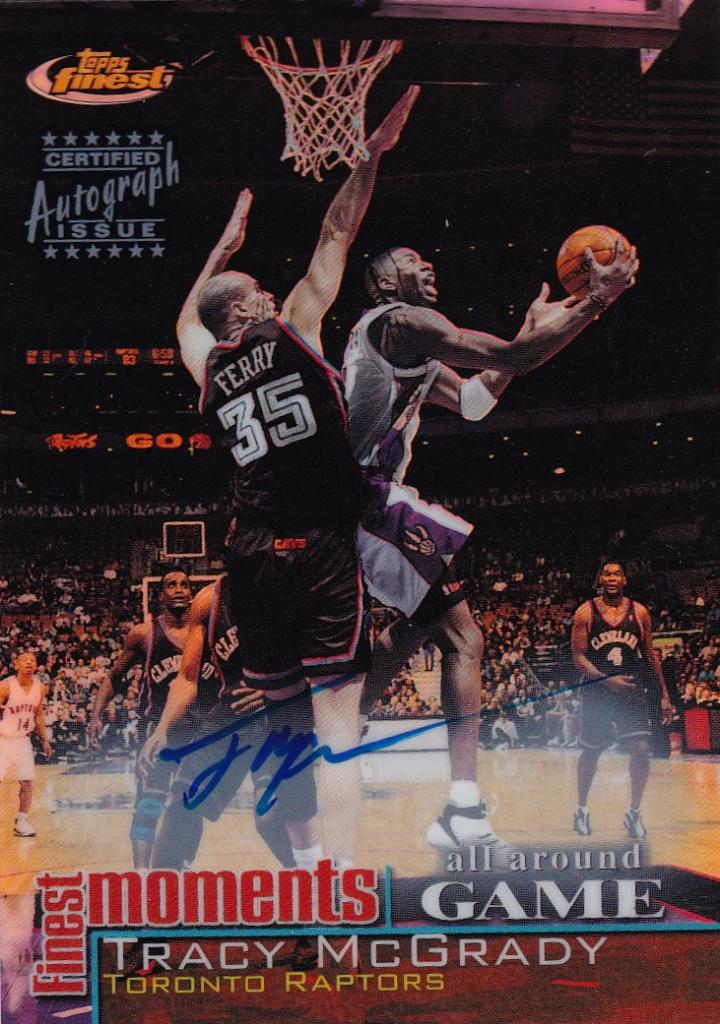 2. Orlando Magic
After the 2000 playoffs, McGrady became a free agent signing a 6 year $67.5mill deal with the Magic to come and play in Orlando. This signing would not only send him home to Florida but also pair him with the Magic's other big free agent signing - Grant Hill. Hill played only 4 games that next season and only 47 total for the Magic forcing McGrady to take on a bigger leadership position on the team - this helped him elevate his play, with the then Bucks GM Ernie Grunfield call him "one of the five best players in the league" along with being named the leagues Most Improved Player and making his first All NBA Team.
In the 2003-04 season, the Magic got off to a dissapointing 1-10 start after making the playoffs the year before, resulting in coach Doc Rivers getting fired eventually finishing with the worst record in the East despite making the playoffs the year before and McGrady collecting his second consecutive scoring title.
3. Houston Rockets
On June 29, 2004 the Orlando Magic traded McGrady along with Juwan Howard, Tyronn Lue and Reece Gaines to the Houston Rockets for Steve Francis, Catino Mobley and Kelvin Cato in what hindsight would say is one of the most lopsided trades in history. McGrady would go on to become an All Star for Houston whilst being paired with Yao Ming while Francis lasted less than 2 years in Orlando.
On December 9, 2004, McGrady scored 13 points in the last 35 seconds of a game against the Spurs including the game-winning 3 pointer with 1.7 seconds left that led to the 81-80 Rockets win.
In 2006-07, the Rockets started slowly and McGrady's body started its decline - first with a series of back spasms that prevented him from playing for stretches at a time before having severe shoulder and knee injuries in 2008 that would result in arthroscopic surgery in both locations. On December 29, 2006, he became the third-youngest player in NBA history to reach 14,000 points and 4,000 rebounds. In 2009 he required microscopic surgery in an attempt to rectify ongoing knee issues.
In 2009, despite McGrady being on injured reserve, the Rockets beat the
Portland Trail Blazers
4–2 in the first round of the playoffs to advance to the second round of the playoffs for the first time since 1997. The Rockets would compete in a memorable series against the eventual NBA champion
Los Angeles Lakers
, before losing Game 7 in LA. Since McGrady was on the Rockets' roster during the
2009 NBA Playoffs
, he officially advanced past the first round of the playoffs for the first time in his career.
4. New York Knicks
McGrady only played in six games with the Rockets during the
2009–10 season
, all in limited minutes as a reserve due to injuries, before being traded to the
New York Knicks
in February. McGrady played 24 games for New York in 2010, includin 26 points on debut before becoming a free agent. McGrady was very much in favor of returning, however the Knicks chose not to renew McGrady's contract as Amare Stoudamire had agreed to come to New York on the basis that McGrady was not, they had a long standing off the court feud and the Knicks front office believed that Stoudamire would be able to return the team to glory.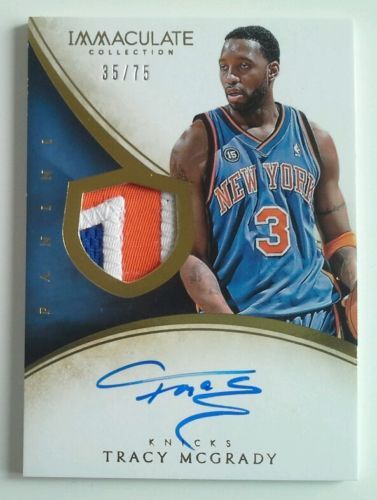 5. Detroit Pistons
For the next two years, his production would continue to decrease; he averaged just 8 points per game for the
Detroit Pistons
in
2010–11 whilst accepting a reserve role late in season for the first time in his career. McGrady played 72 games in Detroit.
6. Atlanta Hawks
Continuing in a reserve role, McGrady averaged a career-low 5.3 points per game for the
Atlanta Hawks
in
2011–12 while playing 52 games
.
7. San Antonio Spurs
This story will finish upon the aquisition of the only Spurs auto released to date - flawless transitions. If anyone knows of the location of said card, please let me know.
Volume 2 is currently underway - Caron "Tuff Juice" Butler
Thanks for reading

Last edited: