Hi All,
I mainly collect NBA and am a frequent on the NBA threads here.
However like everyone else seems to be doing... I did some cleaning up at the parents house and while going through all my childhood cards came
across about 100 odd of the below NFL pro set. Additionally there is a 92 Bowmans Brad Baxter in there for some reason and looks like a gold parallel.
For another unknown reason they are in penny sleeves so in fair condition and some in really good for their age. Talking circa 30 years ago.
My guess is these are equivalent to the Hoops, Upper Decks of the NBA in the early 90's. Mass produced and belong in the bin!
Though I wouldn't mind being told otherwise that they may need a closer inspection for error prints, stars, rare etc.
Just got no idea what I'm looking for. I mean Dan Marino was in Ace Ventura, there is Jerry Rice, Joe Montana, Troy Aikman.
Any help is appreciated and if nothing else I've provided a laugh here.
Am happy to hear the same when this question come on the NBA selling thread.
The old $10 for the lot. I mean there at least there is no rubber band marks on them so that hope.
Finally they are for sale and I know you need pricing just didn't want to embarrass myself!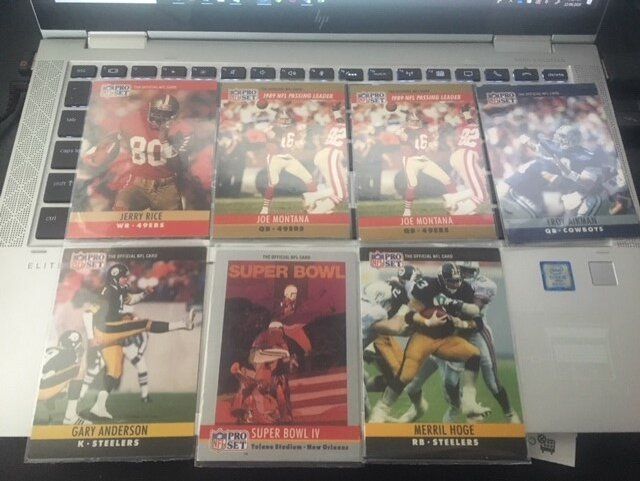 Thanks
Chris