Messages

3,519
Location
Real Name

Trevor
Held off on getting some Last Jedi boxes as I didn't want spoilers. Have seen the film (not overly impressed) so it was safe to get boxes now. Got a bunch of other stuff at the same time, purely to save on shipping of course !

3 boxes of Star Wars Last Jedi, all pretty ordinary. Two auto's, one I already have and the other a redemption. When I saw the redemption card I thought it might have been something special, but sadly not really! Medallions were pretty ordinary too. Nice sketch by James O'Riley - has great detail!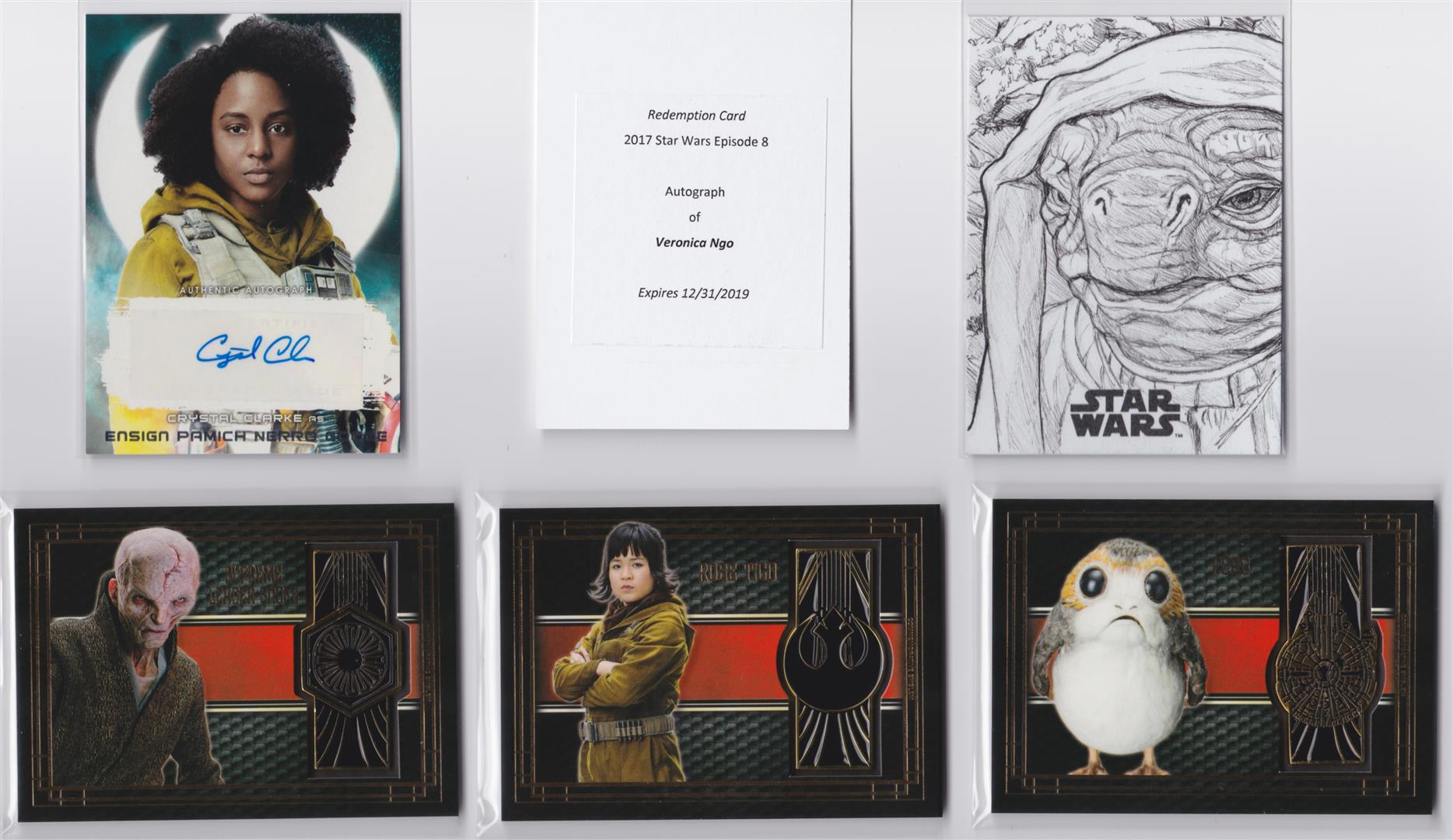 Gave the new High Tek a go as well, again nothing to write home about, but not all bad.
Went three boxes of Star Trek Beyond. This is a strong product and seems to have good hits. Very happy with how I did, got the other Sofia Boutella Auto, and I can't believe how cheap the Urban auto's go for - I thought it was an awesome hit. Swarm ship relic piece is pretty cool too, it's about a centimeter thick...though I must say it looks like they make their ships out of red colored wood!

The metal cards in this set don't look like metal at all !
Went a box of UD Alien which seems to be flying under the radar a bit. Very cool box that opens like one of the Aliens eggs. While I didn't get a cast auto, still happy to pull the Chris Foss as I have loved his work since I was a kid, he's the ultimate space artist in my eyes. Patch card is a bit myeh, but funny all the same.
Lastly bought some more cheap Arrow S3 boxes. Can't really go wrong at less than US$40 a box. Doing the full auto set from all 4 seasons is a big ask, so I'm building a set of at least one example of each signer as whatever characters they signed as. Pulling the Katie Cassidy as the Black canary was just perfect and it's one of the rarest auto's in the set - plus she's a favorite and I already have her auto as Laurel Lance. Also did awesome in the relics, pulling two extra duals, one of which is an extremely rare /19. So in the end a pretty awesome return on the investment! Must admit I'm sad to hear that they won't being doing any more Arrow sets, they were very well done.