Interested in low numbered Warriors
Jul 11, 2008
1,599
1,740
Real Name

Daniel
Finally a big update as of 17/8/16. I have been able to consolidate several pages into one now much of my collection has sold, but even still sorry about the size of the page and its pic-heavy nature.

I still have at least 5000 IPs to trade/sell as well

As far as trades go I'm not looking for much these days: rare low-numbered Warriors cards, premiership IPs, gold parallels from Elite but that is about it.

2017 Elite

Cameron Smith Crystal Case Card 2004 CC33 #06/30
Warriors Elite Impact set of 4
Pearls 143, 145, 146

2017 Traders

Simon Mannering Season to Remember SR30
Shaun Johnson Top 10 Points PP15
Full Set of Warriors Faces of the Game
Full Set of Warriors Pearls

2017 Power Play

Gold Kata Try
Isaac Luke Superhero

2016 Elite
Ruby Mojo: Canterbury Bulldogs #03/40 (pic at bottom of post)
League Sensatons:
LS4 Wade Graham #028
Young Guns: YG14 Latrell Mitchell #122, YG15 Tuimoala Lolohea #129
Case Cards:
Run & Gun Parallels: RGP10 Greg Bird/Ryan James #051, RGP16 Sam Mataora/Pauli Pauli #030, RGP24 Aaron Gray/Jason Clark #080
Captains: C1 Corey Parker x2, C2 Jarrod Croker, C4 Paul Gallen, C5 Zillman/Friend, C8 Hodkinson/Sims/Smith, C10 Kieran Foran, C11 Matt Moylan, C13 Gareth Widdop, C14 Jake Friend, C16 Aaron Woods, C17 Paul Gallen
Run & Gun: RG23 Inglis/Johnston, RG24 Gray/Clark, RG30 Ryan Hoffman/Simon Mannering
Engine Room: ER4 Jarrod Wallace x2, ER5 Kurt Baptiste x2, ER12 Sam Perrett, ER13 Gerard Beale, ER14 Jayson Bukuya, ER18 Daniel Mortimer, ER25 Dale Finucane, ER27 Blake Green, ER29 Mickey Paea, ER30 Sam Mataora, ER33 Scott Bolton, ER36 Antonio Winterstein, ER38 David Gower, ER40 Danny Wicks, ER42 Jeremy Latimore, ER45 Jason Clark, ER49 Leeson Ah Mau, ER51 Jake Marketo, 53 Mitchell Aubusson, ER55 Isaac Liu, ER56 Daniel Tupou, ER58 Jacob Lillyman, ER59 Jeff Robson
Gold Parallels (Trade only)
I have to trade: 13, 24, 38, 61,63, 66, 77, 87, 89, 94, 111, 118, 121, 127, 149, 161, 165, 174, 188
I need: 3, 5, 8, 16, 31, 33, 39, 47, 54,
61,
64, 67, 70, 82, 88, 90, 98, 104, 105, 107, 110, 112, 119, 120, 124, 126, 129, 131, 139, 141, 147, 150, 160, 166, 169, 171, 172, 175, 177, 179, 185, 187, 189
Road to Immortality Box Cards: BC1 Johnathan Thurston x8, BC2 Cameron Smith x8
2016 Traders
Gold SAS: SASG3 Josh Reynolds
Club Heroes: CH29 Ben Matulino x2
Pieces of the Puzzle: PP24 Michael Lichaa, PP82 Benji Marshall, PP85 Luke Brooks
Faces of the Game: 2, 6, 11, 17, 21, 22, 27, 29, 43x2, 45, 48
Special Parallels: PS71x2, PS73, PS74x3, PS75x2, PS79, PS78,
Parallels: P28, P30, P154, P155, P157, P159, All Warriors
Full common set
2016 Power Play
Superhero: SH31 Kevin Naiqama
Wild Power: WP15 Simon Mannering
Power Card: PC2 Curtis Rona, PC16 Trent Hodkinson
2015 Elite
Young Gun Signature: YGS-8 Sione Mat'utia #101
Road to the Finals Jersey: Matt Moylan #142 (pic at bottom of post)
All Stars: AS3 Mitchell Pearce #091, AS7 Ryan James #053
Case Card: CC1 Paul Gallen
Young Guns: YG3 Mitch Cornish, YG5 David Klemmer, YG6 Moses Mbye, YG9 Kierran Mosely, YG12 Cheyse Blair, YG14 Felise Kaufusi, YG17 Tautau Moga, YG19 Tepai Moeroa, YG23 Dylan Walker, YG26 Euan Aitken, YG29 Solomone Kata, YG32 Matthew Lodge
Club Champions: CC1 Ben Hunt, CC7 Michael Gordon, CC9 Beau Falloon, CC11 Brenton Lawrence, CC13 Jesse Bromwich, CC14 Kurt Mann, CC15 Beau Scott, CC16 Robbie Rochow, CC17 Johnathan Thurston, CC18 Michael Morgan, CC19 Chris Sandow, CC20 Manu Ma'u, CC21 Matt Moylan, CC22 Jamie Soward, CC23 John Sutton, CC25 Ben Creagh, CC27 Mitchell Pearce, CC29 Simon Mannering, CC30 Manu Vatuvei, CC31 Aaron Woods
Pennants: EP1 Matt Gillett, EP2 Alex Glenn, EP4 Corey Parker, EP6 Jarrod Croker, EP9 Paul Vaughan, EP11 Greg Eastwood, EP12 Trent Hodkinson, EP13 Frank Pritchard, EP14 Josh Reynolds, EP15 Aiden Tolman, EP16 Andrew Fifita, EP20 Jeff Robson, EP21 Ryan James, EP24 Aidan Sezer, EP26 Matt Ballin, EP28 Jamie Lyon, EP29 Steve Matai, EP31 Will Chambers, EP33 Ryan Hinchcliffe, EP34 Billy Slater, EP35 Cameron Smith, EP37 Chris Houston, EP38 James McManus, EP29 Jarrod Mullen, EP41 Scott Bolton, EP43 Matt Scott, EP44 James Tamou, EP46 Will Hopoate, EP47 Tim Mannah, EP49 Joseph Paulo, EP51 Jamal Idris, EP52 Brent Kite, EP56 George Burgessx2, EP59 Adam Reynolds, EP61 Ben Creagh, EP65 Gareth Widdop, EP66 Boyd Cordner, EP69 Roger Tuivasa-Sheck, EP70 Jared Waerea-Hargreaves, EP71 Shaun Johnsonx3, EP72 Simon Manneringx2, EP74 Sam Tomkins, EP76 Robbie Farah, EP80 Aaron Woods
Special Parallel (Gold): PS3 Justin Hodges, PS19 James Graham, PS58 Marika Koroibete, PS121 Michael Jennings, PS134 Chad Townsend
Parallels: Part Set 121/144 missing P4, 9, 14, 24, 25, 31, 42, 54, 57, 61, 65, 80, 81, 83, 88, 95, 99, 107, 111, 114, 118, 129, 142
Full common set
2015 Traders
Case Card - Sterling
Retirements: Bailey, Merritt, B Smith, Tate, King, Ropati
Club Heroes - Newcastle, Roosters, Penrith, Dogs, Eels, Cows
Thunder & Lightning: Most (please ask)
Galactic Heroes: Most (please ask)
Season to Remember: All
Pieces of the Puzzle: All
Faces of the Game: All
Special Parallel (Black): PS1, 4, 16, 23, 29, 42, 60, 77, 81, 97, 114, 136
Parallels: All
2014 Elite
League Sensations:
LS5 Greg Bird #084
,
Young Guns: YG8 Robbie Rochow #072
Dally M Album Card: Cooper Cronk x2
Master & Apprentice: MA2 Jarrod Wallace, MA3 James Graham, MA4 Dale Finucane x2, MA6 Shannon Boyd, MA7 Gavin Cooper, MA8 Jason Taumalolo x2, MA9 Luke Bailey, MA10 Ryan James x2, MA11 Anthony Watmough x2, MA14 Ben Hampton x2, MA16 Korbin Sims x2, MA18 Peni Terepo x2, MA19 Kevin Kingston, MA20 James Segeyaro, MA21 Bryce Gibbs, MA22 Tupou Sopoaga, MA23 Sam Burgess, MA25 Ben Creagh, MA27 Sonny Bill Williams, MA28 Boyd Cordner, MA31 Pat Richards x2
Pride & Passion: PP1 Alex Glenn x2, PP2 Andrew McCullough x2, PP3 Sam Thaiday, PP4 Josh Morris, PP5 Frank Pritchard x2, PP6 Aiden Tolman x2, PP7 Jarrod Croker x2, PP8 Shaun Fenson x2, PP9 Dane Tilse x2, PP10 Brent Tate x2, PP12 Antonio Winterstein x2, PP13 Mark Minichiello x2, PP14 Nate Myles x2, PP15 Will Zillman x2, PP16 Jason King x2, PP17 Jamie Lyon x3, PP18 Glenn Stewart x2, PP19 Jesse Bromwich x4, PP20 Ryan Hoffman, PP21 Billy Slater x3, PP22 Kurt Gidley, PP23 Kade Snowden x2, PP24 Akuila Uate x3, PP26 Darcy Lussick x2, PP27 Chris Sandowx2, PP28 Tim Grant x2, PP29 Nigel Plum x3, PP30 Peter Wallace x3, PP31 Todd Carney x4, PP32 Paul Gallen x2, PP33 Wade Graham x2, PP34 Greg Inglis, PP35 Isaac Luke x2, PP36 Nathan Merritt x2, PP37 Dan Hunt x2, PP38 Brett Morris x3, PP39 Jason Nightingale x2, PP40 James Maloney, PP41 Mitchell Pearce x2, PP42 Jared Waerea-Hargreaves x2, PP44 Ben Matulinox2, PP46 Braith Anasta x2, PP47 Robbie Farah x3, PP48 Chris Lawrence x2
Silver parallel: 142/144 part set in official album (missing p84, p131). Also Part set of 116/144 & another lot of 59 cards.
Full Common Set
Women in League: Redemption cards x4, Full Set of 9 x2
2014 Traders
Case Card CC1 Wally Lewis x3
Close the Gap Indigenous: IND1 Justin Hodges, IND2 Joel Romelox2, IND4 Jonathan Thurston, IND5 Jamal Idris, IND9 Brad Tighe, IND10 Andrew Fifita, IND11 Nathan Merritt, Nielsen, Robinson, Gagai, Chambers
Retirements: R1 Roy Asotasix2, R4 Danny Buderus, R5 Matt Cooper, R7 Brett Finchx2, R10 Dallas Johnsonx3, R13 Scott Prince, R15 Jason Rylesx2, Bowen
3D Galactic Stars Album: AGS5 Centre Card, AGS9 Jarrod Mullenx2, AGS14 Centre Card
Galactic Stars: All. GS1 Sam Thaiday, GS2 Michael Ennisx2, GS3 Terry Campesex3, GS4 Jonathan Thustonx2, GS5 Centre Cardx3, GS6 Greg Birdx2, GS7 Jamie Lyonx2, GS9 Jarrod Mullen, GS10 Jarryd Hayne, GS11 Tim Grantx2, GS12 Paul Gallenx3, GS13 Greg Inglisx3, GS14 Centre Card, GS15 Ben Creaghx2, GS17 Shaun Johnson, GS18 Robbie Farahx3
Return to Sender: All. RTS1 Jordan Kahux3, RTS2 Corey Oatesx3, RTS3 Mitch Brownx2, RTS4 Sam Perrettx3, RTS5 Bill Tupoux3, RTS6 Jack Wightonx4, RTS7 Kyle Feldtx4, RTS8 Antonion Wintersteinx3, RTS9 Kevin Gordonx4, RTS10 David Meadx3, RTS11 Jorge Taufuax4, RTS12 David Williamsx3, RTS13 Mahe Fonuax4, RTS15 James McManusx3, RTS16 Akuila Uatex2, RTS17 Semi Radradrax3, RTS18 Ken Siox4, RTS19 Josh Mansourx2, RTS20 David Simmons, RTS21 Sosaia Fekix4, RTS22 Beau Ryanx2, RTS23 Bryson Goodwinx3, RTS24 Nathan Merrittx3, RTS26 Jason Nightingalex3, RTS27 Roger Tuivasa-Sheckx2, RTS28 Daniel Tupou, RTS29 Glenn Fisiiahi, RTS30 Manu Vatuveix2, RTS31 Marika Koroibetex2, RTS32 David Nofoalumax2
Milestones: All (please ask)
Magic Moments: All (please ask)
Heritage Round: All (please ask)
Special Parallels (Black): Near set 169/172 (missing 80, 102, 106), Part set 114/172 & a lot of 84 cards
Normal parallels: Full set x5, Part set 172/192, Lot of 184 cards
Official album x7
Common set
2013 Tazos
Tip Top album
Sunblest singles: 18 Mannah x2, 24 Burgess, 41 Mannah/Hayne, 44 Burgess/Inglis
Tip Top singles: 1 Thaiday x2, 2 Hodges, 4 Morris, 6 Shillington, 10 Myles x2, 11 DCE, 12 Foran, 14 Slater, 17 Hayne, 18 Moimoi*, 19 Jennings, 21 Gallen, 25 Soward, 32 Matulino, 37 Morris/Barba, 39 Thurston/Tamou, 40 Idris/Myles, 41 DCE/Foran, 42 Smith/Slater, 44 Moimoi/Hayne*, 47 Inglis/Luke*, 48 Soward/Morris x2, 49 Pearce/Minichiello, 51 Marshall/Farah. * denotes not available in Australia.
2013 Elite
Fast & Furious Gold: FFGS Matai/Taufua Manly
Fast & Furious Silver: FF1 McGuire/Maranta, FF4 T Sims/Graham, FF5 James/Gordon, FF6 Matai/Taufua, FF8 Snowden/Uate, FF9 Moimoi/Morgan, FF14 JWH/SKD, FF16 Blair/Koroibete
Australian Representative: AR3 Darius Boyd, AR4 Cooper Cronk, AR5 Paul Gallenx2, AR6 Justin Hodges x2, AR7 Greg Inglis x2, AR8 Luke Lewis, AR 9 Brett Morris, AR11 Nate Myles, AR12 Matt Scott x2, AR13 Billy Slater, AR14 David Shillington x2, AR15 James Tamou x2, AR16 Sam Thaiday, AR17 Johnathan Thurston, AR18 Tony Williams x2
Triple Threat: TT1 Sam Thaiday, TT2 Justin Hodges, TT3 Corey Parker, TT4 Ben Barba, TT9 Shaun Fensom, TT12 Matt Scott, TT13 Greg Bird, TT14 Ashley Harrison, TT16 Brett Stewart, TT17 Jamie Lyon, TT19 Billy Slater, TT20 Cooper Cronk, TT22 Kurt Gidley, TT25 Jarryd Hayne, TT26 Chris Sandow, TT29 Luke Walsh, TT31 Paul Gallen, TT32 Todd Carney, TT34 Greg Inglis, TT36 John Sutton, TT42 Michael Jennings
Gold Parallels (TRADE ONLY for any other Elite gold parallel I need): SP7, 8 x2, 12, 18, 24, 31, 32, 44, 48 x2, 49, 57 x2, 70, 84 x2, 85, 95, 96, 119, 120, 126, 138, 142 x2
Need: SP37, 42, 43, 79, 82, 124, 127, 128, 129, 130, 131, 133, 134
Ben Barba Dally M Album Card
Official album
Silver parallels: 115/144
Full set of commons
2013 Traders
Premierships: P1 Brisbane Broncos, P1 Brisbane Broncos (minor indent on surface), P2 Melbourne Storm x2, P3 Brisbane Broncos x2, P4 Newcastle Knights, P5 Sydney Roosters, P6 Penrith Panthers x3, P6 Penrith Panthers (one corner not perfect), P7 Canterbury Bulldogs, P8 Wests Tigers, P9 Brisbane Broncos, P10 Manly Sea Eagles x2, P11 St George Illawarra Dragons x2, P12 Manly Sea Eagles, P13 Melbourne Storm x2
Chart Toppers : All (please ask)
Retirements: All (please ask)
Parallels:180/192 in official album (missing 11, 22, 24, 26, 33, 48, 71, 91, 119, 133, 151, 160) & a part set 119/192 & a lot of 136 cards
Full common set
2013 Power Play
Glow in Dark Logo: TL2 Canterbury Bulldogs, TL9 Penrith Panthers
Super Stars: S9 Jarryd Hayne, S13 Trent Merrin, S14 Mitchell Pearce, S16 Robbie Farah
2013 Limited
Signature Series: SS1 Billy Slater, SS2 Michael Jennings, SS3 Reece Robinson all #047
Full base set of 33 in case.
2012 Limited
Signature Series: SS6 Benji Marshall
Jersey Signature Series: JSS3 Mitchell Pearce, JSS4 Sam Thaiday
Foil: P1 Darius Boyd, P15 Alex Glenn, P32 Brett Stewart, P44 Billy Slater, P49 Greg Bird, P62 Cooper Cronk, P68 Benji Marshall, P71 Manu Vatuvei, P72 JWH x2
Case Cards: LE1 Luke/Cronk, LE3 Jennings/Merritt (neither have perfect corners)
Official Album x4
Full common set
2012 Dynasty
Top Prospect: TPS1 Gerard Beale #263, TPS2 Jonathan Wright #191, TPS3 Sam Williams #238, TPS6 Jamie Buhrer #264, TPS7 Matt Duffie #272, TPS8 Ryan Stig #221, TPS9 Tariq Sims, #137,TPS10 Taniela Lasalo #134, TPS11 Sam McKendry #012, TPS13 Nathan Peats #250, TPS14 Boyd Cordner #209 & #224
Triple Centurions – TC10 Darren Lockyer, TC11 Geoff Gerard, TC12 Hazem El Masri, TC13 Paul Langmack, TC14 Nathan Hindmarsh
Award Winners: AW6 Glenn Stewart
Team of the Year: TY5 Cooper Cronk, TY8 Matthew Scott
All Stars: S1 Ben Barba, AS2 Jharal Yow Yeh, AS3 Greg Inglis, AS4 Justin Hodges, AS5 Nathan Merritt, AS7 Chris Sandow x2, AS10 George Rose, AS11 Sam Thaiday, AS14 Andrew Fifita, AS15 Corey Paterson, AS16 Matt Bowen, AS17 Scott Prince, AS18 Anthony Mitchell, AS19 Joel Thompson, AS20 Nathan Peats, AS22 Jason Nightingale, AS23 Jack Reed, AS24 Michael Jennings, AS26 Benji Marshall x2, AS27 Cooper Cronk, AS28 Kade Snowden, AS29 Aaron Payne, AS30 Luke Bailey, AS31 Nathan Hindmarsh, AS32 Adam Blair, AS33 Paul Gallen, AS34 David Taylor, AS35 Frank Pritchard, AS36 JWH, AS38 Brent Tate, AS39 Luke Lewis, AS40 Nathan Fien
Parallels: SP2, SP5, SP6, SP7, SP8, SP9, SP11, SP12, SP13, SP14, SP15, SP16x2, SP18, SP21, SP22, SP29, SP30x2, SP32, SP33, SP36, SP37, SP41, SP42, SP43, SP45, SP47, SP48, SP50, SP51, SP53, SP55, SP56, SP57, SP58, SP59, SP60, SP61, SP62, SP63, SP67, SP69, SP77, SP78, SP80, SP81, SP89, SP90, SP91, SP92, SP93, SP94, SP95, SP98, SP99, SP100, SP101, SP102, SP103, SP104, SP105, SP107, SP108, SP109, SP110, SP111, SP112, SP115, SP116, SP121, SP125, SP127, SP129, SP131, SP137, SP138, SP149, SP150, SP151, SP152, SP161x2, SP162, SP163, SP164, SP165, SP166, SP167, SP169, SP170, SP171x2, SP172x2, SP176, SP177x2, SP178x2, SP179, SP180, SP181, SP185, SP186, SP187x2, SP188x2, SP189, SP193, SP194
2012 Champions
Triple Centurions: TC1 Brett Kimmorley, TC2 Terry Lamb, TC5 Steve Menzies
Showtimes: ST4 Gallen/Gardner, ST6 Stewart/Foran, ST12 Cooper/Soward, ST13 Taylor/Inglis, ST14 Anasta/Rylesx2, ST16 Marshall/Farah
Rookie Standouts: RS1 Jack Reed x2, RS2 Dane Gagai x2, RS5 Sam Williams x2, R6 Chad Townsend, RS7 Matt Srama, RS8 Daly Cherry-Evans, RS9 Will Hopoate x2, RS12 Ryan Stig, RS13 Tariq Sims, RS14 Kalifa Faifai Loa, RS15 Taniela Lasalo x2, RS16 Mitchell Allgood, RS17 Jacob Loko, RS19 Nathan Peats
Try Machine: TM1 Jharal Yow Yeh x2, TM2 Jack Reed, TM3 Gerard Beale, TM4 Alex Glenn, TM5 Blake Ferguson, TM6 Jarrod Croker, TM8 Ben Barba, TM11 Nathan Stapleton, TM14 David Mead, TM16 Kevin Gordon, TM17 Brett Stewart, TM18 Jamie Lyon, TM19 Tony Williams, TM21 Billy Slater, TM22 Matt Duffie, TM26 Ashley Graham x2, TM28 Kalifa Faifai Loa, TM30 Justin Horo x2, TM32 Luke Burt, TM33 David Simmons, TM35 Michael Gordon, TM39 Ben Creagh, TM48 Benji Marshall, TM50 Beau Ryan
Sticker Parallels – Titans full set (mounted)
Official album
2012 World Club Challenge Manly vs Leeds Full Set of cards.
2011 Strike
Unredeemed Predictor: PP13 South Sydney Rabbitohs
Team of the Year: TY2 Taniela Tuiaki, TY6 David Stagg, TY7 Anthony Watmough, TY9 Ben Hannant, TY14 Scott Prince, TY15 Luke Lewis, TY16 Sam Thaiday
Club Player of the Year: CP1 Corey Parker, CP2 David Stagg, CP3 Dugan/Miller, CP4 LukeDouglas, CP5 Nathan Friend, CP6 George Rose, CP9 Luke O'Donnell, CP11 Trent Waterhouse, CP16 Gareth Ellis, CP17 Josh Hoffman, CP18 Brett Kimmorley, CP20 Paul Gallen, CP21 Luke Bailey, CP22 Jamie Lyon, CP23 Ryan Hinchcliffe, CP24 Matt Hilder, CP27 Luke Lewis, CP32 Gareth Ellis
2011 Champions
Rookie Sensation: RS1 Matt Gillett, RS2 Corey Norman, RS6 Ryan James, RS8 Matt Duffie, RS10 Will Tupou, RS14 Joseph Leilua
Stardom Gem: MG2 David Stagg, MG10 Scott Bolton, MG13 Lachlan Coote
NRL Rookie: R3 Mitch Rivett, R18 Bodene Thompson, R24 Hep Cahill, R32 Constantine Mika
Official album
2010 Tazos Footy Plays
(around half sealed): 2 Hodges, 3 Folau, 12 Tongue, 17 Bowen, 18 O'Donnell, 21 Prince, 23 Rogers, 26 Lyon x2, 28 Watmough, 31 Slater, 36 Gidley, 37 Mullen, 41 Hindmarsh x2, 43 Moimoi, 46 Civoniceva, 47 Lewis x2, 51 Barrett, 57 Sutton, 58 Sandow, 61 Creagh, 62 Soward, 63 Morris, 76 Marshall, 78 Ellis.
2010 Tags
Album with near set missing 12 mostly Warriors.
Gold tags: G01 Darren Lockyer, G05 Alan Tongue, G03 Andrew Ryan, G07 Paul Gallen, G023 Ben Hornby, G025 Roy Asotasi, G027 Braith Anasta, G031 Robbie Farah
2010 Champions
Mascot Gems: MG8 Steve Simpson, MG16 Taniela Tuiaki
Sensations Gem: S1 Antonio Winterstein, S7 Blake Ferguson, S16 Akuila Uate, S17 Manase Manuokafoa, S18 Michael Bani, S26 Jamie Simpson
Impact Signatures: IS1 Sam Thaiday, IS4 Alex Glenn, IS15 Anthony Tupou, IS16 Kade Snowden, IS18 Brad Meyers, IS19 Ashley Harrison, IS21 Matt Ballinn, IS22 Josh Perry, IS24 Jason King, IS25 Adam Blair, IS28 Brett White, IS33 John Williams, IS34 Ben Harris, IS29 Ben Cross x2, IS30 Cory Paterson x2, IS31 James McManus, IS32 Chris Houston x2 (Full Newcastle Set), IS42 Jarrod Sammut, IS49 Colin Best, IS50 Chris Sandow, IS51 Rhys Wesser, IS52 Jamie Simpson (Full Souths Set), IS55 Lopini Paea, IS56 Ben Jones, IS61 Keith Galloway, IS64 Blake Ayshford
2009 Classic
Top Prospects: TP9 John Williams #283, TP11 Wade Graham #211, TP14 Ben Jones #210, TP16 Tim Moltzen #282
Top Tryscorers (all have redemptions): TC5 Kevin Gordon/Mat Rogers, TC8 Jarrod Mullen
2009 Team of the Year: TY1 Billy Slater, TY2 Colin Best, TY3 Israel Folau, TY4 Greg Inglis, TY5 Matt Orford, TY6 Alan Tongue, TY7 Glenn Stewart
2009 Club Player of the Year: CP1 Sam Thaiday, CP2 Andrew Ryan, CP3 Joel Monaghan, CP4 Paul Gallen, CP5 Preston Campbell, CP7 Billy Slater, CP8 Kurt Gidley, CP9 Aaron Payne, CP10 Nathan Hindmarsh, CP12 Jason Ryles, CP15 Simon Mannering
Jersey Parallels: JDC1, 2, 3, 4, 5, 6 (Brisbane Full Set), 7, 8, 10, 11, 13, 17, 18, 20, 21, 22, 23, 24, 25, 30, 31, 32, 33, 34, 35, 36, (Manly Full Set), 37, 38, 39, 40, 41, 42 (Melbourne Full Set), 43, 44, 45, 46, 48, 49, 50, 51, 52, 53, 54 (NQ Full Set), 55, 56, 57, 58, 59, 60 (Eels Full Set), 61, 62, 63, 64, 65, 66 (Panthers Full Set), 67, 69, 71, 72, 73, 74, 75, 76, 77, 78 (South Full Set), 79, 80, 81, 82, 83, 88, 91, 92, 93, 94, 95, 96 (Tigers Full Set)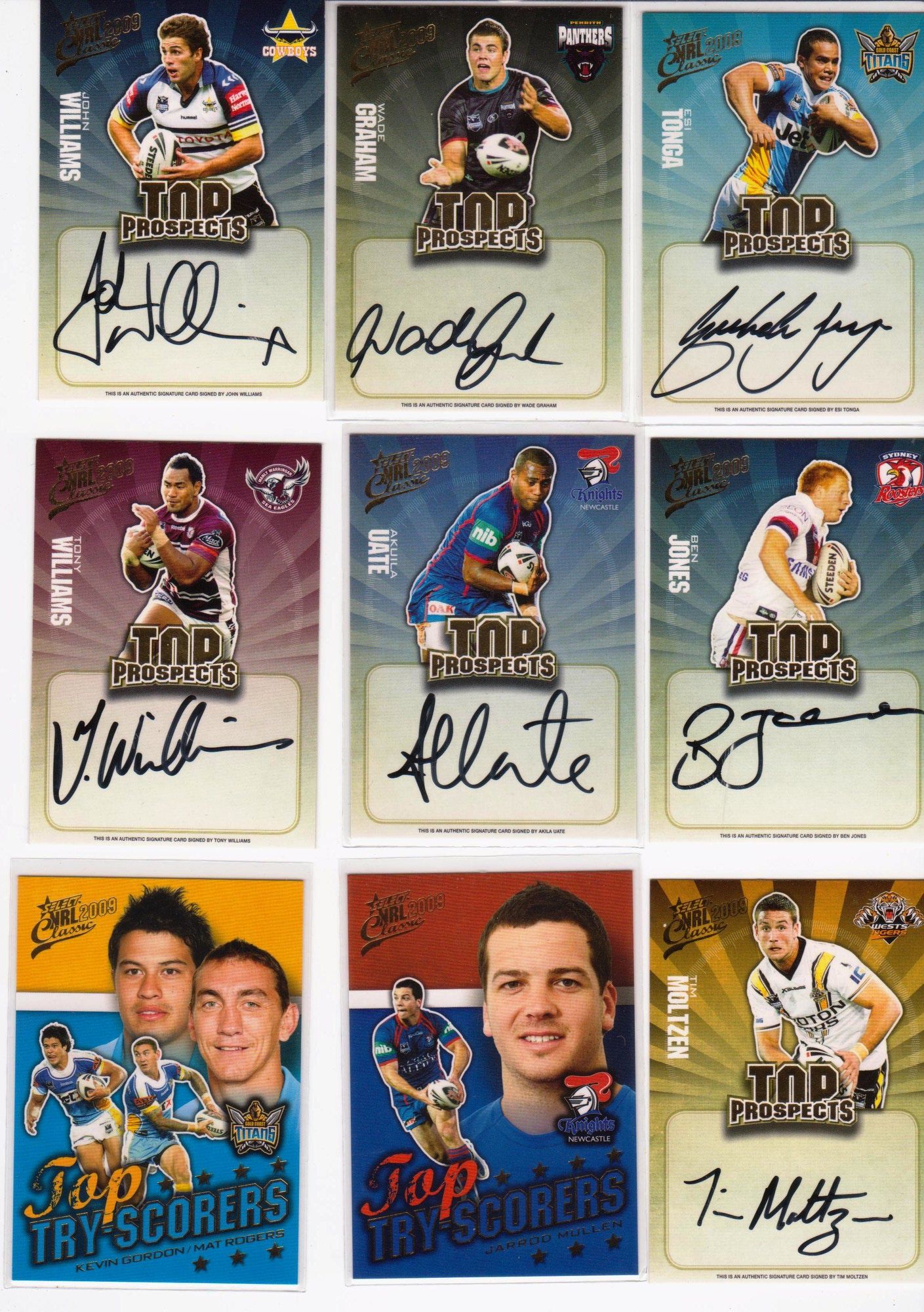 2009 Champions
Mascot Gems: MG2 Andrew Ryan
Sketch: SK2 PJ Marsh, SK3 Hazem El Masri, SK8 Brett Seymour, SK12 Glenn Stewart, SK17 Carl Webb, SK31 Robbie Farah
Foil Signatures: FS2 PJ Marsh, FS10 Paul Gallen, FS26 Travis Burns, FS33 Luke Lewis, FS41 Mitchell Pearce, FS47 Dene Halatau
Jersey Parallels: JDC1, 2, 3, 5, 8, 10, 12, 15, 16, 18, 19, 22, 25, 26, 27, 31, 36, 40, 41, 45, 48, 54, 58, 67, 80, 89, 101, 103, 105, 109, 110, 113, 114, 115, 117, 118, 119, 131, 137, 150, 152, 153, 157, 162, 166, 169, 171, 184, 185, 186, 187, 188, 191, 192, 195
Official Album
2008 Smiths Tazos
Firsts: 1 NSWvQld, 3 First Premiers. ERROR card 38 Paiul Harragon with no gold embossing at all (no name or banners)
Common set: 65/67 missing 26, 71
2008 Centenary
Team of the Century: TC2 Ken Irvine, TC3 RegGasnier, TC5 Brian Bevan, TC9 Noel Kelly, TC10 Duncan Hall, TC 12 Ron Coote, TC14 Dally Messenger, TC15 Bob Fulton, TC17 Frank Burge, TC18 Jack Gibson
Platinum parallels: 36 Dave Brown, 46 Clive Churchill, 58 Arthur Summons, 64 John Raper
Club Foil Logos: CL8 Newcastle Knights, CL16 Wests Tigers
Past Heroes: PH1 Steve Renouf, PH2 Gordon Tallis, PH3 George Peponis, PH4 Chris Mortimer, PH5 Ricky Stuart, PH7 Gavin Miller, PH8 Mark McGaw, PH9 Dale Shearer, PH10 Chris Close, PH11 Cliff Lyons, PH12 Paul Vautin, PH13 Stephen Kearney, PH14 Marcus Bai, PH15 Paul Harragon, PH16 Matthew Johns, PH17 Paul Bowman, PH18 Matthew Sing, PH19 Bob O'Reilly, PH21 Greg Alexander, PH22 Royce Siimons, PH25 Jack Rayner, PH26 Ian Moir, PH27 Bill Mullins, PH31 John Skandalis, PH32 Mark O'Neill
G1 Gladiators Card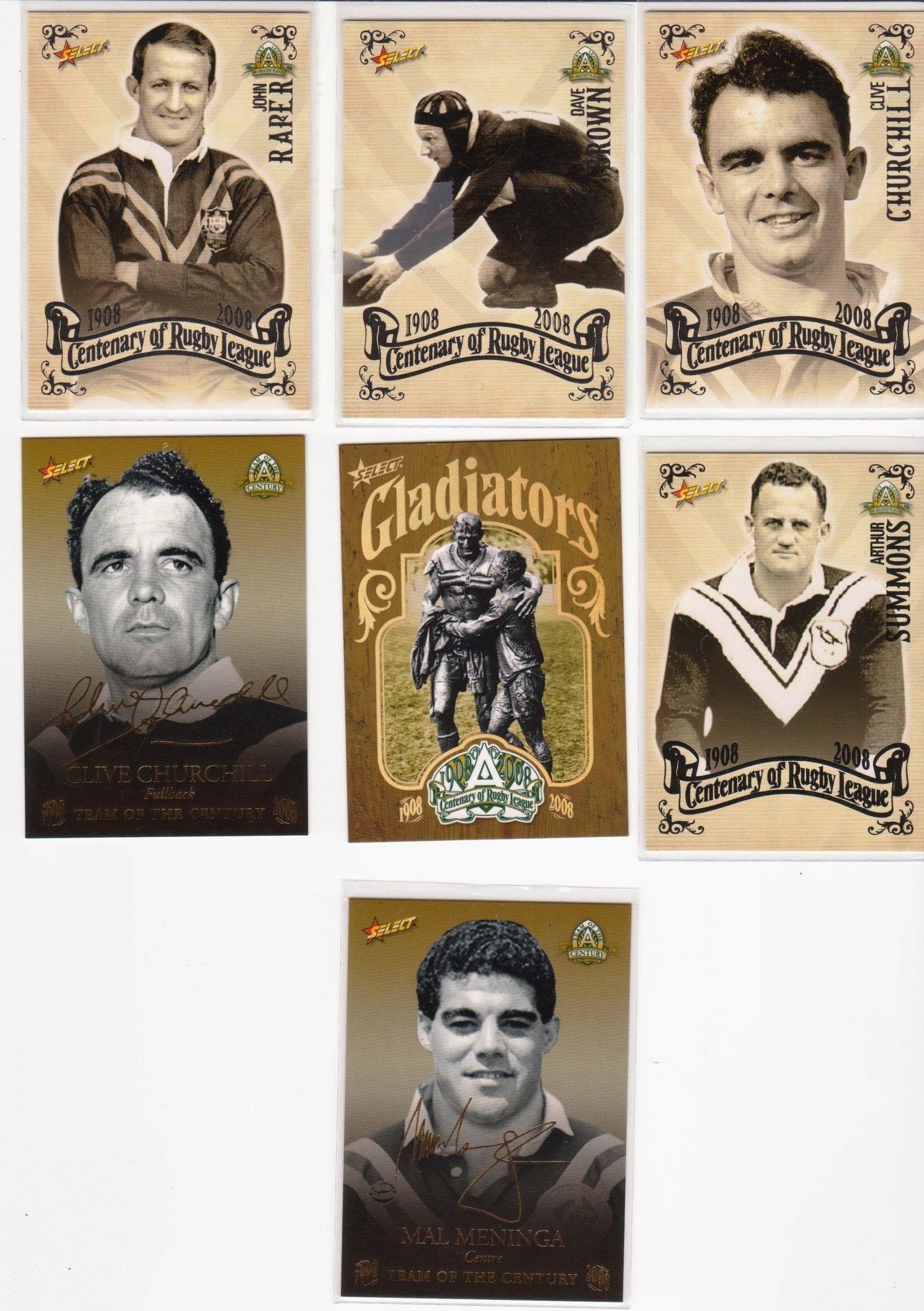 2008 Champions
Gems: GC1 Justin Hodges, GC3 Todd Carney, GC5 Luke Bailey, GC6 Brett Stewart, GC9 Matt Bowen, GC11 Luke Priddis, GC16 Robbie Farah
Sketch: SK2 Steve Michaels, SK22 Michael Jennings, SK28 Setaimata Sa, SK32 Chris Lawrence
Foil Signatures: FS1 Darren Lockyer, FS2 Tonie Carroll, FS6 Willie Tonga, FS7 Neville Costigan, FS9 Lincoln Withers, FS10 Brett Seymour, FS11 Brett Kearney, FS13 Scott Prince, FS14 Preston Campbell, FS15 Mat Rogers, FS21 Dallas Johnson, FS22 Steve Simpson, FS23 Adam MacDougall, FS24 Cory Paterson x2, FS27 Ty Williams, FS31 Trent Waterhouse, FS33 Tony Puletua, FS37 John Sutton, FS38 Dean Widders x2, FS39 David Kidwell, FS40 Braith Anasta, FS46 Benji Marshall, FS48 Taniela Tuiaki
Official album
2007 Invincible
Unredeemed Predictor: P16 Wests Tigers
Rookie Sensations: RS5 Mitchell Pearce
Team of the Year: TY1 Clinton Schifcofske, TY2 Brian Carney x2, TY3 Mark Gasnier, TY4 Darren Lockyer, TY5 Cooper Cronk x2, TY6 Roy Asotasi, TY8 Nathan Hindmarsh, TY9 Ben Kennedy x2
Club Player of the Year: CP2 Luke Patten, CP3 Alan Tongue, CP8 Aaron Payne, CP9 Nathan Hindmarsh, CP10 Rhys Wesser, CP15 Robbie Farah
Jersey parallels: Full set of Wests Tigers x2
2007 Champions
Sketch: SK1 Karmichael Hunt, SK2 Shaun Berrigan, SK4 Andrew Emelio, SK8 Ben Pomeroy, SK11 Brett Stewart, SK13 Matt King, SK28 Josh Lewis
Award Winners: M5 Shaun Berrigan Clive Churchill
2006 Smith Tazos
Upside down holograms of 14 Rhys Wesser and 05 Matt Bowen
3D: 28/30 just missing the Warriors. Also 10 extra singles of 3 Asotasi, 4 SBW, 6 Thurston, 12 A Johns, 16 Sutton, 22 B Stewart, 24 Vagana, 25 M King, 27 Marshall, 28 Prince
Hologram: 28/30 just missing the two Warriors. All holos the right way up. Also a second part set 16/30 with numbers 2 Lockyer, 4 SBW, 6 Thurston, 7 Hindmarsh, 8 Smith, 9 Barrett, 11 Buderus, 12 Johns, 13, Gower, 18 Smith, 19 Minichiello, 19 Wing, 21 Kennedy, 22 Stewart, 26 Slater, 27 Marshall
Standard: Full set of 30 & a parts set of 27/30
2006 Invincible
Top Prospects: TP3 Shane Tronc #305, TP7 Sam Perrett #068, TP10 Yileen Gordon #250
CC1 Titans Case Card (small crease on back) #172
League Leaders (with redemptions): CC2 Andrew Ryan #050, CC5 Ben Kennedy #050, CC8 Travis Norton #050, CC15 Brett Hodgson #050
Unredeemed Predictor: North Queensland Cowboys
All Stars: AS1 Darren Lockyer, AS3 Clinton Schifcofske, AS4 Brett Kimmorley, AS5 Matt Orford, A7 Andrew Johns, AS8 Matt Bowen, AS9 Nathan Hindmarsh, AS10 Craig Gower, AS14 Ruben Wiki, AS16 Danny Buderus, AS17 Mark Gasnier, AS19 Timana Tahu, AS20 Brett Hodgson
Jersey parallels: Broncos DC1, 2, 3. Raiders Full set of 6. Sharks full set of 6. Manly full set of 6. Knights full set of 6. Souths full set of 6. Tigers full set of 6.
2006 Accolade
Top Trio: TT3 Canberra Raiders
Hot Property: HP7 Milton Thaiday, HP9 Tim Smith, HP10 Matthew Cross, HP13 Iosia Soliola, HP15 Robbie Farah
Footy Faces: Manly FF41, 42, 43, 44, 45. Panthers FF91, 92, 93, 96, 97, 98, 99, 100. Rabbitohs FF114, 115, 116, 117, 118, 119, 120. Roosters FF127, 129. Warriors 133.
2005 Power
Centre Stage: CS1 Robbie Farah, CS2 Ty Williams
Dally M: HR2 Karmichael Hunt, HR5 Billy Slater
Team of the Year: TY2 Amos Roberts, TY3 Willie Tonga, TY5 Brett Finch, TY6 Shaun Timmins, TY8 Paul Rauhihi
Club Player of the Year: CP2 Andrew Ryan x2, CP3 Clinton Schifcofske, CP4 Jason Stevens, CP5 Chris Hicks, CP6 Matt Orford, CP8 Luke O'Donnell, CP9 Nathan Hindmarsh, CP10 Craig Gower, CP12 Ashley Harrison, CP13 Brett Finch, CP14 Wairangi Koopu, CP15 Brett Hodgson
Redeemed Predictor (no Playmaker) PC5 Manly Sea Eagles
2005 Tradition
Tri Nations: TN2 Australia Celebrates, TN4 Matt Bowen, TN6 Tonie Carroll, TN9 Craig Fitzgibbon, TN10 Craig Gower, TN11 Scott Hill, TN13 Ben Kennedy, TN14 Brett Kimmorley, TN15 Darren Lockyer, TN21 Matt Sing
2004 Authentic
Future Force: FF3 Terry Campese #466, FF5 Anthony Quinn #103, FF6 Anthony Watmough #501, FF7 Michael Witt #551, FF8 Ben Ross #286, FF11 Stuart Webb #557
Case Card CC1 Penrith Panthers
Captain Card (with redemptions): CP3 Simon Woolford #034, CP4 Stephen Kearney #026, CP6 Travis Norton #080, CP9 Craig Gower #034
Premiers: PC1 #091 Bulldogs
Honour Roll: HR1 West Tigers, HR2 Wayne Bennett, HR4 Luke Priddis, HR5 Rhys Wesser, HR7 Danny Nutley, HR8 Clinton Schifcofske
Club Player of the Year: CP4 Robbie Kearns, CP10 Danny Nutley, CP15 Anthony Laffranchi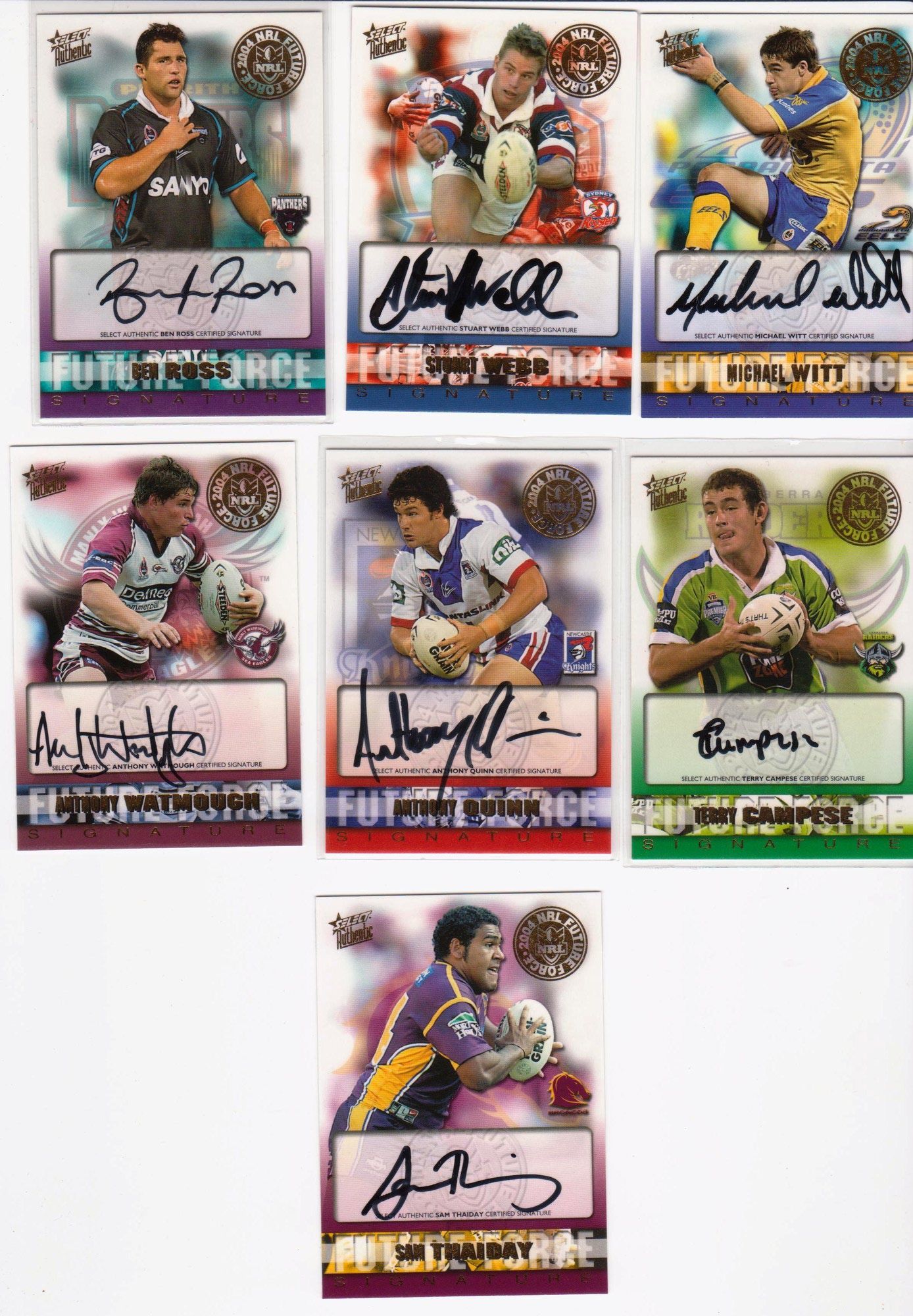 2003 XL
Future Force: FF32 Corey Parker #071, FF36 Adam Woolnough #126, FF37 Chad Randall #385, FF38 Ashley Graham #128, FF39 Shane Rodney #331, FF43 Lalea Paea #431
Tribute Card: TC1 Steve Mortimer
Dally M: DM3 Matt Utai Rookie
Team of the Year: TY1 Darren Lockyer, TY2 Lote Tuqiri, TY3 Nigel Vagana, TY4 Brad Fittler, TY5 Andrew Johns, TY6 Steven Menzies, TY9 Danny Buderus
Club Player of the Year: CP1 Darren Lockyer, CP2 Brent Sherwin, CP4 Brett Kimmorley, CP5 Steve Menzies, CP6 Rodney Howe, CP7 Andrew Johns, CP8 Matt Sing, CP9 Nathan Hindmarsh, CP10 Craig Gower, CP11 Shaun Timmins, CP12 Paul Stringer, CP13 Craig Fitzgibbon, CP15 John Skandalis (shortprint)
2002 Challenge
Future Force: FF18 Todd Byrne, FF20 Joel Monaghan, FF22 Brent Tate, FF23 Clint Newton, FF24 Jason King, FF25 Daniel Irvine, FF26 Lincoln Withers, FF27 Brent Kite, FF28 Luke Lewis, FF29 Ben Harris, FF30 George Gatis
Box cards: BC8 Jason Ryles, BC11 John Buttigieg
Dally M:
DM1 Preston Campbell
, DM4 David Peachey,
DM5 Darren Lockyer,
DM7 Brian Smith
Team of the Year: TY1 Darren Lockyer, TY3 Nigel Vagana, TY4 Adam Dykes,
TY5 Preston Campbell
, TY6 Daniel Wagon, TY7 Nathan Hindmarsh, TY8 Shane Webcke
Club Player of the Year: CP2 Darren Britt, CP3 Clinton Schifcofske, CP4 Richard Swain, CP5 Ben Kennedy, CP6 Geoff Toovey, CP7 Glenn Morrison, CP9 Nathan Hindmarsh, CP10 Scott Sattler, CP11 Preston Campbell, CP12 Jason Ryles
2001 Impact
Future Force (all with redemptions): FF3 Braith Anasta, FF11 Dane Carlaw, FF12 Luke O'Donnell, FF13 Joel Caine
Accolades: A3 Tasesa Lavea, A4 Ryan Girdler, A6 Darren Lockyer
Team of the Year: TY3 Ryan Girdler, TY8 Craig Gower, TY9 Shane Webcke
Club Player of the Year: CP2 Wendell Sailor, CP3 Hazem El Masri, CP5 Rodney Howe, CP7 Julian O'Neill, CP8 Paul Bowman, CP9 Adam Muir, CP11 Craig Gower, CP12 David Peachey, CP14 Brad Fittler, CP15 Tyran Smith
2000
All Star Signatures (all with redemptions): SC2 Jason Hetherington #386, SC9 Terry Hill #466
Anzac Test Heroes: A1 Australia Team, A7 Mat Rogers, A11 Ryan Girdler
Team Logos: L4 Canberra Raiders, L5 Melbourne Storm, L6 Newcastle Knights, L7 Northern Eagles, L8 North Queensland Cowboys, L10 Penrith Panthers
Stars of Origin: S1 NSW Team, S2 Brad Fittler, S3 David Peachey, S4 Ryan Girdler, S5 Jamie Ainscough, S7 Bryan Fletcher, S8 Ben Kennedy, S9 Rodney Howe, S12 QLD Team, S13 Adrian Lam, S14 Darren Lockyer, S16 Darren Smith, S17 Wendell Sailor, S18 Wendell Sailor, S19 Brad Thorn, S20 Gordon Tallis, S21 Martin Lang, S22 Shane Webcke
62 Different PROMOS from 2000-2011

1998 Ansett Broncos set of 8

1998 Clipsal Adelaide Rams set

1997 Adelaide Rams: Foxtel set of 25




1997 Fatty's Funpacks
Meltdowns: 91 Craig Field, 92 Dale Shearer, 93 Wes Patten x2, 94 Brad Fittler, 95 Greg Florimo, 96 Paul Langmack x2, 97 Mark Carroll, 98 Brett Dallas,
Crash the Pack: 1 Paul Vautin, 2 Tim Brasher, 4 Jamie Goddard, 6 Brett Rodwell, 11 Billy Moore, 12 Gary Larson, 13 Jarrod McCracken, 15 Jim Dymock, 16 Mark Coyne, 17 Wayne Bartrim, 18 Craig Teevan, 19 Darrell Trindall, 20 Peter Driscoll, 24 Paul Langmack, 25 Cherry Mescia
Footy cash $1, $2, $3, $5, $10
1996 New Zealand Card Crazy
Awards: 1 Shane Edwards, 2 Jason Palmada, 3 Earl Va'a
Graduates: 2 Henry Paul, 3 Duane Mann
20 Game Club: 8 Quentin Pongia
1996 Signature Gold
Part set of commons 67/90 + all card sized flyers and value cards.
Actetates (26/36): A1 Matthew Ridge, A2 Rod Wishart, A3 Dave Watson, A4 Brett Dallas, A5 Adrian Vowles, A6 Terry Hill, A7 Mark Coyne, A8 Kerrod Walters, A9 Darren Smith (full set of Air), E1 Mark Carroll, E2 Paul Harragon, E3 Paul Sironen, E5 Jason Smith, E6 Terry Lamb, E7 Rodney Howe, E8 Cliff Lyons, E9 Ken McGuiness, W1 Steve Menzies, W3 Brad Fittler, W4 Andrew Johns, W5 Tim Brasher, W6 Brett Mullins, W7 Laurie Daley, F7 Anthony Mundine, F8 Craig Polla-Mounter, F9 Wendell Sailor
1996 Series 2
All Fired Up Signature A1 Brad Fittler #522 (COA, but no redemption)
MVP Signature: Craig Field #042/400 (no COA)
All Fired Up: A1 Brad Fittler x2
Warlords: W2 Tim Brasher x2, W3 Laurie Daley x2, W4 Steve Renouf, W5 Wendell Sailor, W6 Billy Moore
State Wars: SW1 Andrew Ettingshausen x2, SW2 Rod Wishart x2, SW3 Dean Pay x2, SW4 Glenn Lazarus x2, SW5 Adam Muir x2, SW6 Brett Mullins x2, SW7 Tony Hearn x2, SW8 Gary Larson x2, SW9 Wayne Bartrim x2, SW10 Brett Dallas x2, SW11 Robbie O'Davis x2, SW12 Jason Smith x2
1996 Series 1&booster
Original Starter Album
PROMO card
Near set of cards (missing 5). Includes all 18 All Stars inserts
National Heroes Signatures: Steve Menzies #971 (COA, but no redemption)
National Heroes: Brad Fittler, Brett Mullins, Steve Renouf, Alan Langer
Game Breakers: GB1 Tim Brasher, GB2 Cliff Lyons, GB3 Adrian Lam x2, GB4 Craig Field, GB5 Greg Florimo, GB6 Ricky Stuart, GB7 Brett Mullins, GB8 Phil Blake, GB9 Steve Carter, GB10 Terry Lamb
All Star Team: AS1 Terry Lamb, AS2 Brett Dallas, AS3 Paul Harragon, AS4 Steve Menzies, AS9 Dean Pay
Common bulk lot: 161 different cards.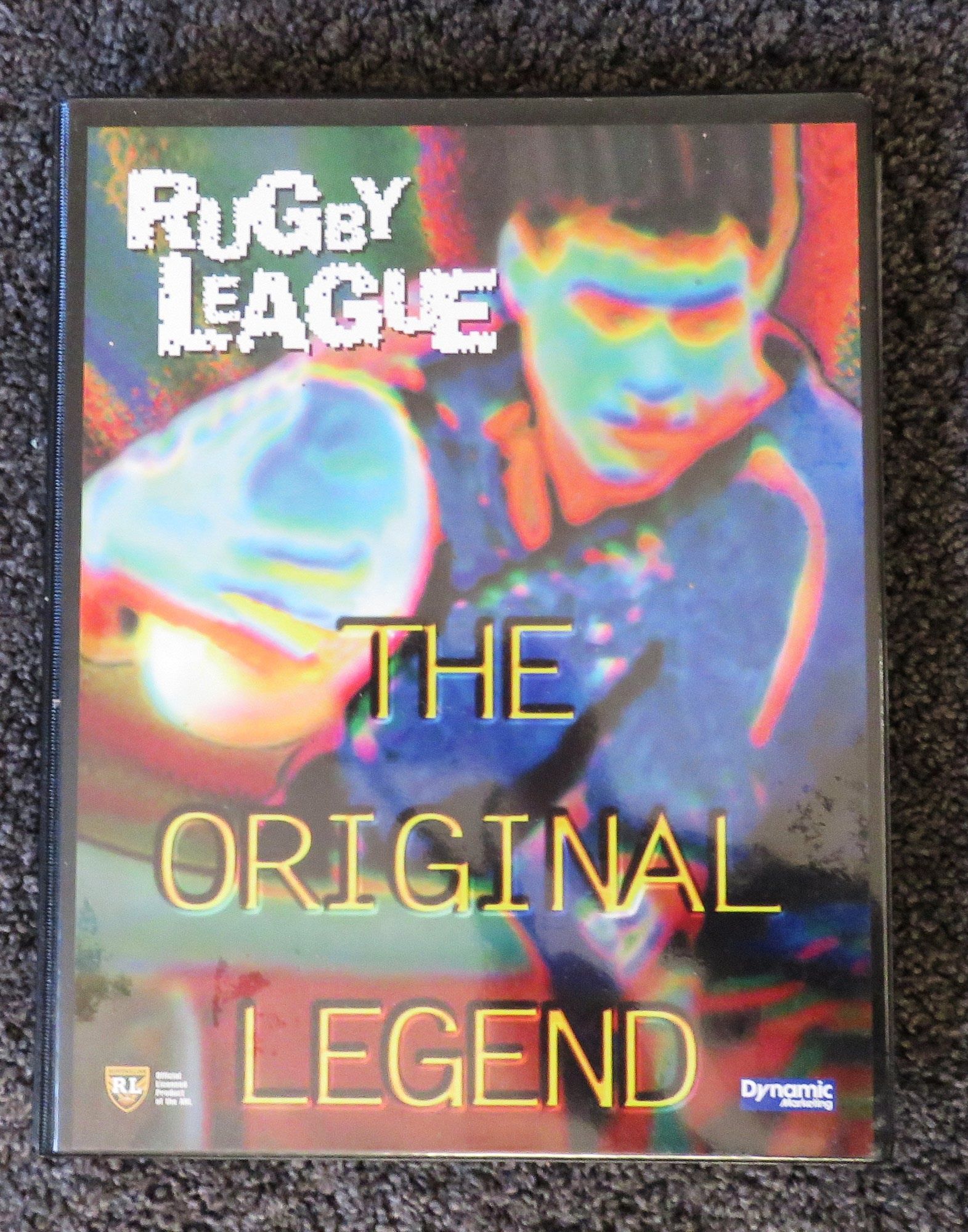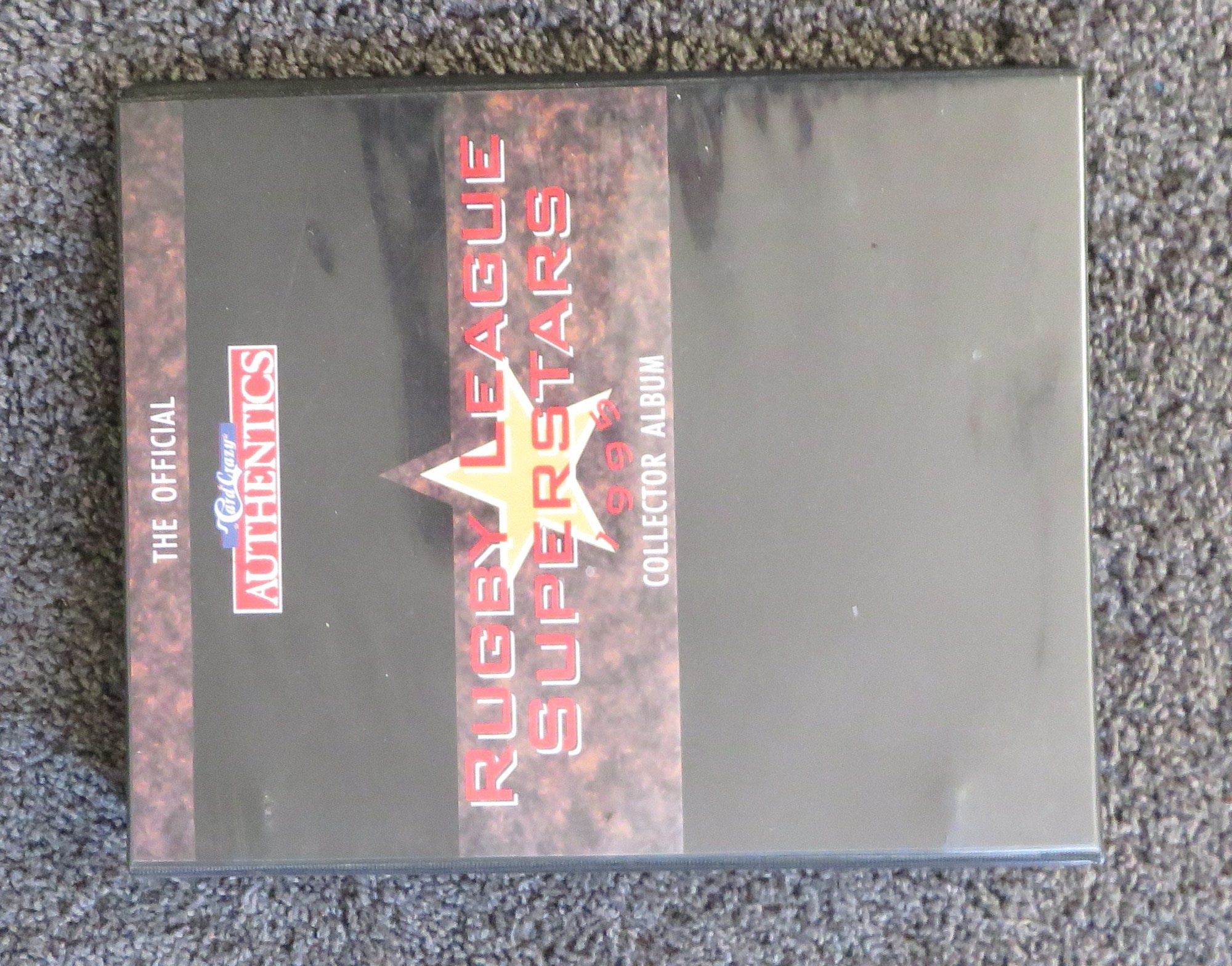 1995 Pizza Ht Footy Works: cards 2-9 (missing #1)

1995 New Zealand Card Crazy
Official Album Ltd Ed #0021 with part set of gold seals (58/90) and part set of commons (76/90)
Game Breaker: 1 Frano Botica, 3 Daryl Halligan
Game Breaker Phonecard: Daryl Halligan, Gary Freeman
Explosive: 1 Stephen Kearney, 2 John Lomax, 3 Jason Lowrie, 4 Jarrod McCracken, 5 Duane Mann, 6 Tawera Nikau, 8 Quentin Pongia x2
1995 Winfield Cup
Out of this World: W1 Ricky Stuart, 2 Andrew Ettingshausen, 4 Glenn Lazarus, 6 Gary Larson, 7 Brett Mullins, 8 Fatty Vautin, 9 Terry Hill
1995 Series II
Alan Langer MegaMorph #2010 with redemption, Alan Langer Megamorph without redemption
Force 5: SS4 Brad Clyde unsigned version
Promo card
Origin Men of Steel: OS1 Laurie Daley x3, OS2 Brad Fittler, OS3 Paul Harragon, OS4 Alan Langer, OS5 Gary Larson, OS6 Dean Pay x2, OS7 Steve Renouf x2, OS8 Ricky Stuart x3, OS9 Steve Walters
Part set of commons: missing 1, 3, 4, 5, 6, 7, 8, 9, 23, 27, 39, 54, 63, 72, 81, 82, 90, 97, 99, 101,104, 107, 113, 135, 141, 144, 145, 146, 153, 162, 168, 173, 180-198, 201, 213, 216
1995 Series One
Winner's Circle: WC2 Jim Serdaris, WC3 Alan Langer, WC6 Paul Green, WC7 Ricky Stuart, WC8 Ben Elias x2, WC9 Peter Louis x2
Front Line Enforcers: FE1 Glenn Lazarus, FE2 Darren Fritz, FE3 Mark Carroll x2, FE4 Paul Harragon, FE5 Danny Lee, FE6 Darren Britt
Promo Card (Meninga)
Common Part Set missing: 14, 23, 34, 72, 77, 79, 110, 111, 112, 113, 115, 116, 121, 123, 134, 146, 147, 148, 150, 151, 152, 185, 188
1994 Hometown Heroes set of 16 (Toovey and Mahon autographed in black sharpie)
1994 Dynamic Duos set of 16

1994 Sticker album and near set in good condition 231/258 (stickers affixed)

1994 Masters
Captain's Choice: CC1 Jim Serdaris/Lamb, CC2 Bradley Clyde/Meninga, CC3 Mark Carroll/Geoff Toovey (some yellowing on this one).
1994 Series 1 Dynamic: Full set of 220 commons.

1993 Regina Common Set 173/174 missing card 148.

1993 Sticker album and full set (affixed). Very good condition
1993 unpeeled, loose stickers: 2 Langer, 3 Freeman x3, 4 Rodwell, 7 Brasher x2, 9 Brasher, 12 Geyer, 14 Masela x2, 16 Balmain logo x4, 17 C Robinson, 18 W Robinson x2, 19 Sinclair, 20 Sironen, 21 Smith, 24 Carne x2, 25 Cann, 29 Hauff, 30 Brisbane logo x4, 31 Langer, 34 Renouf, 35 Kerrod Walters x2, 38 Belcher x2, 39 Boyle x2, 42 Daley, 43 Fritz, 44 Furner, 45 Hoppe, 46 Meninga, 50 S Walters, 51 Woods x2, 53 Bella x2, 57 Hill x2, 65 Serdaris, 67 Bulldogs logo x2, 68 Bell x3, 69 Boughton, 70 Cronulla logo x5, 73 Ettingshausen, 76 Higgins, 78 Kearns, 80 Quinn x2, 81 Raper, 83 Deacon x2, 84 Hall, 86 Gaffey, 88 Murray, 91 Protheroe, 95 Silva, 96 Sinclair x2, 97 Roosters logo x2, 98 Bartrim x2, 106 Peacock, 108 Todd, 109 Twist, 110 Weston, 111 Gill x2, 112 Gold Coast logo x3, 113 Cross x3, 114 Izzard, 116 McGregor x2, 123 Schifilliti, 124 Simon, 125 Waddell x3, 126 Wishart x2, 128 Meninga/Fulton, 129 Carne/Brasher, 133 Lazarus/Langer x2, 134 Renouf/Lindner, 142 Hasler, 143 Hosking x3, 144 Jones x2, 146 Lyons, 149 Ridge, 151 Toovey, 153 Manly logo x 3, 156 Brunker x2, 159 Harragon, 160 Godden, 163 Martin, 165 O'Davis x2, 167 Sargent x2, 168 Schuster, 171 Fenech, 175 Jackson x2, 176 Jones, 177 Kiss, 178 Larson, 179 Moore, 180 Rea x2, 183 Norths logo x2, 188 Drake x2, 189 Erickson x2, 193 Mahon, 194 Oudenryn x2, 195 Speechley x2, 198 McPhail, 200 Alexander x2, 201 Boyd x2, 202 Carter, 204 Clarke, 206 Girdler, 209 Mackay, 212 Van Der Voort, 215 Brown, 216 Carroll x3, 218 Garlick, 220 Johnston, 221 Keenan, 224 Thompson, 225 Trindall, 226 Schott, 227 Minto, 229 Barnhill, 230 Terp x2, 231 Collins, 232 Coyne, 234 St George logo, 235 Goldthorpe, 237 Hardy x2, 240 Priddle, 242 Smith, 244 Alchin x2, 246 Britt x2, 251 Langmack, 252 Lidden
1992 Regina common set 175/176 missing card 88. Checklist marked.

1992 Official NSRW League Ladder (nm) with full set of colourgram cards

1992 set of 16 colourgrams: Balmain with some corer damage

1991 Official Album (near mint) with full set (nm)

1991 Stimorol: Near set 203/210 with sealed pack.

1991 Streets Broncos: Gavin Allen

1990 Streets Broncos: Sam Backo, Alan Langer, James Donnelly, Mark Hohn

1990 Stimorol: Near set 154/156 with sealed pack


1987 Scanlens
: 11 Craig Bellamy (ex), 12 Mal Meninga (ex), 13 Paul Elliott (ex), 14 Gary Coyne (ex), 15 Dean Lance (vg), 16 Sam Backo (vg) , 17 Jay Hoffman (vg), 18 Chris O'Sullivan (vg), 19 Ashley Gilbert (vg), 20 Gary Belcher (ex) (Canberra Raiders Full Set)
1986 Scanlens
: 75 Teasdell (vgd)
1984 Sticker album and full set (affixed). Very good overall
1983 Sticker album with full set (affixed) - cover has some creasing and spine starting to split.

1982 Scanlens
: 1 Ray Price (gd), 2 Ron Hilditch (ex), 3 Bob O'Reilly (ex), 6 Steve Ella (fair), 14 Micheal Pitman (vg), 15 Graeme O'Grady (nm), 17 John Ferguson (nm), 18 Ray Blacklock (nm), 19 Mick Ryan (ex), 21 Steve Bowden (vg), 23 Tommy Raudonikis (vg), 25 Paul Morris (ex), 26 Mal Graham/checklist (gd), 30 Steve Lavers (vgd), 32 Wayne Pearce (vg), 34 Steve Martin (vgd), 40 John Dorahy (gd), 41 Brian Hetherington (gd), 43 Greg Cook (gd), 44 Lee Pomfret (gd), 45 Mal Creevey (vg), 46 Peter Ryan (ex), 47 John Sparks (vg), 48 Chris Montgomery (vg), 49 Gerard Crowe (vgd), 50 Steve Topper (gd), 52 Wayne Springall/checklist (vg), 59 Robert Simpkins (vg), 61 Tony Melrose (vgd), 62 Gary Hambly (vg), 63 Peter Tunks (ex), 120 Kurt Sorensen (vg), 121 Dane Sorensen (ex), 122 David Hatch (vg), 123 Nick Mullane (vg), 124 Ian Forrest (vg), 126 Rowland Beckett (vg), 128 Steve Kneen (vg), 132 Scott Dudman (vg), 133 John McLeod (ex), 135 Gerry De La Cruz (vg), 141 Ian Hamilton (gd), 144 Steve Mayoh (vg), 147 Mark Graham (ex), 154 John Adam (vg)
1980 Scanlens
: Norths unmarked checklist (ex)
1979 Scanlens
: 29 Mark Harris (ex), 34 Greg Owens (ex), 39 Arthur Mountier (ex), 40 John Mackay (ex), 57 Peter Kelly (nm), 59 Warren Fenton (vg)
1978 Scanlens
: 10 Col Casey (vg), 14 Terry Adams (nm), 19 Gary Walsh (vg), 26 Chris Luckman (vg), 38 Aub Le'Brocq (ex), 44 Russell Gartner (nm), 56 Ray Branighan (ex), 66 Greg Mullane (vg), 72 Royce Ayliffe (ex), 78 George Peponis (ex), 101 Col Murphy (ex), 104 Russell Hunter (vg), 106 John Jansen (ex), 129 Tony Quirk (ex), 143 Ian Thomson (m)
1977 Scanlens
: 6 Greg Mullane (ex), 18 John Gibbs (ex), 20 Kevin Wilson (ex), 21 Trevor Ryan (ex), 22 Alan McMahon (nm), 24 Garry Pretti (ex), 25 Terry Adams (ex), 26 Jeff Shield (ex), 43 Roger Lavis (nm), 47 John Gray (ex), 65 Rick Bourke (nm), 68 John McMartin (vg), 69 Brian Lockwood (nm), 70 Dave Edwards (ex), 71 Stephen Knight (nm), 72 Paul Khan (ex), 74 John Dorahy (ex), 100 Greg Bandiera (gd), 103 Neil Pringle (ex), 108 Greg Allen (ex), 112 Steve Rogers (ex), 117 Steve Lavers (ex), 124 Merv Muggleton (nm), 125 Fred Dennehy (nm)
1976 Scanlens
: 8 Neil Pringle (ex), 9 Graham Roberts (ex), 10 Peter Boulton x2 (ex & vg), 11 Brian Lockwood (ex),
16 Bob Grant (ex),
22 Garry Hughes (ex),
23 Geoff Connell (nm), 38 Terry Wickey (vg)
, 42 Stephen Knight (vg), 43 Terry Geary (ex), 44 Glenn Stolzenhein (ex),
46 Phil Young (ex), 49 Gary Allsopp (ex),
50 Terry Quinn (ex), 51 Warren Fisher (nm x2), 55 Ian McKechnie (ex), 57 Peter Duffy (vg), 61 Peter Newsome (nm), 63 Steve Lavers (vg), 64 Ross Gigg (ex), 67 Brian Reeve (ex), 68 Greg Pierce (ex), 69 Mark Levy (ex), 71 Mark Hughes (ex),
72 Chris Wellman (ex)
,
73 John Heyward (ex), 77 Shane Day (ex), 78 Jim Murphy
(vg), 82 John Donnelly (nm),
83 Don Rogers (ex), 87 Tommy Raudonikis (ex)
,
90 Bruce Walker (ex), 92 Geoff Foster (ex),
96 Paul Somerville (vg),
97 Billy Smith (ex),
115 Mike Stephenson (ex), 116 Peter Langmack (ex), 118 Don Moseley (ex),
119 Gary Stewart (ex)
, 122 Glen West (nm), 124 Noel Maybury, 125 Dennis Manteit (ex), 126 Keith Cook (ex), Balmain Tigers unmarked checklist (ex)
1975 Scanlens
: 32 Steve Kosta (gd), 119 Dave Burnett (vg)
1969 Scanlens
: 2 Jim Matthews (ex), 11 Bill Bradstreet (ex), 30 Tom Melville (ex), 32 Bob Carnegie (vg), 36 Mick Maher (vg), 42 Johnny Baker (ex)
1968B Scanlens
: 12 Dave Barsley (ex), 19 George Abrum (vg), 23 Jimmy Lisle (vg), 33 Kevin Longbottom (vg), 34 John Armstrong (ex)
1968A Scanlens
: 33 Ken Owens (nm)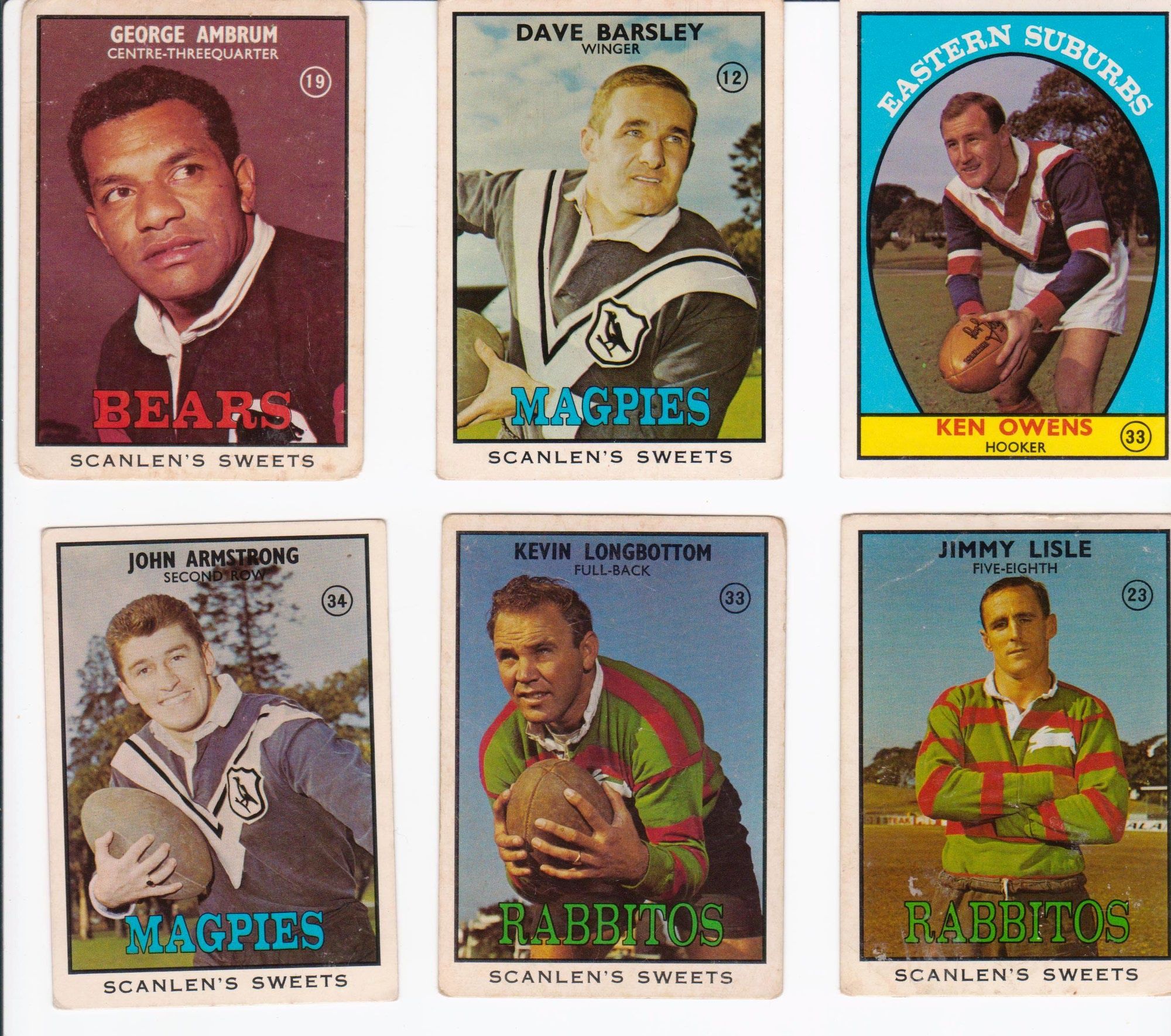 1967 Daily Mirror Photocard
: Bob Fulton (ex)
Last edited: