Messages

13,333
Location
Real Name

Andrew
eBay User
Au - Short for Auto or Autograph
Auto - Shortened version of Autograph
Autograph - A signature of a person, normally depicted on the card.
Base - The non-insert cards which make up the base set of each series. Also known as common cards.
Blaster Box - Normally 5-22 packs. Mainly base cards. It won't contain the same hits as hobby boxes and tends to be a cheap, hit-free version of the product, occassionally guaranteeing one auto or game used.
Bump - to bump a thread to get it back to the top of the forum it is in and bring it to the attention of the users.
Bubble mailer - The way every trade should be packaged, a bag packed with bubble wrap. Also known as a padded bag.


BV - Book or Beckett Value, taken from the trading card book Beckett (which now also has an online price guide) -

http://www.beckett.com/

Most collectors no longer use BV and use recently ended auctions from ebay or trading sites.
Case - Refers to a case of boxes. Normally 12 boxes make up a case.
Case Hit - Is normally the hit of the case, most products contain an insert that on average is only 1 in every case.
Checklist - A checklist card. The card displays the checklist of cards from that release.
CMB - Check my bucket, used when someone wants you to look in their photobucket account to see if they have anything you want to trade for
COMC - Check out my cards. Sometimes said in reference when trading, but more often used in reference to the website -

http://www.checkoutmycards.com/


Common - See base
Err - Refering to an error card. Some errors are corrected by the card companies, others however are never corrected.
FS - For Sale
FT - For Trade
Game used - This is a collective term for most cards with a piece of game used material on it. There are variations to the material (shoe, jersey, shorts, hat, sweat bands etc) as well as where it was used. Some are classified as "event worn", like at rookie photo shoots.
Graded - Cards that are sent to a professional grading company and given a rating out 10 (BGS,PSA) or 100 (SGC).
Hobby Box - Hobby boxes are the boxes that are sold through specialist hobby stores (not retail such as Kmart/Target/Walmart). They normally have a higher chance of getting a game used or autographed card than a retail box.
HTG - Hard to Get. A card that is hard to get from someone's collection.
IMO - In my opinion
Insert - A randomly inserted card, the odds of getting an insert ranges from 1 in every 2 packs to 1 in thousands of packs, depending on the company and product range.
IP Auto - In Person Auto refers to an autograph that was obtained in person. Most often obtained at an actual game or organised signing session.
Jersey - A type of game used featuring a piece of a players jersey.


LF - Short for Looking for
LMK - short for let me know
Logoman -A card featuring the logo from the players jersey.


Mailday - The mail you received of new cards/memorabilia that you want to share with other collectors
Manufactured - A manufactured patch or logo, that is specifically made for the card and not taken from an actual game used item.
Mojo - A term used to give good luck and to get a case hit or other good card.
On Card (OCA) - On card autos are cards where the auto is directly on the card.
One Touch - A one touch holder is a card protector with a magnetic touch at the top. Highly considered amongst collectors.
Patch - is the stitched letter or number part of a jersey.


PC - Personal Collection or Player Collection. Personal Collection normally refers to a card in someone's personal collection and not normally in there cards for trade. Player collection refers to a collection of an individual player.
Personal grading - This is a grading given by a collector to a card. Normally in the format M-mint, NM-Near Mint, VG-Very Good.
Rack Pack - usually sold in walmart. will be 1-2 packets, but will have 20-50 cards in each pack. Usually all base, with a few rookie cards and maybe a rack pack specific insert (not a valuable one and looks like a base card usually)
Redemption - A redemption card that can be redeemed on the company website for an actual card.
Report - To report a post or thread. This is done by clicking the Report link underneath every post made on the forum.
RC- Rookie Card. A first year card of a player.
Ref/Refractor - Refractors have a rainbow type effect. Most notable when the card is twisted to refract the light of it. Originally refractors had no distinction other than looking at them, now most have refractor written on them.
Left = Atomic Refractors, Middle = Refractors, Right = Base.
Retail Box - Usually ranging 20-40 packs with 8-10 cards that come with 4-6 or so inserts per box. Inserts are usually different to hobby boxes. Inserts found in hobby can sometimes be in retail but harder to get as majority of inserts will be retail box specific.
Screw Down - Similar to a one-touch, however these use a scew to hold the protector together. There has been some collectors who have found these have damged their cards after a long period of being screwed together too tightly.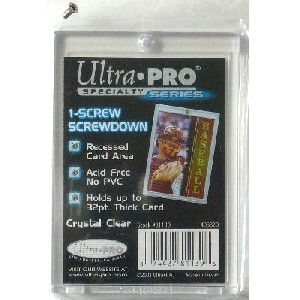 Search - To use the search function of the site. It is hidden in the top right hand corner of every page.
Serial Number -
An imprinted serial number on the card, to show it's limited availibility.
Soft Sleeves - These are the soft sleeves to protect a card that goes inside a top loader.


SP - Short printed. Often card companies will say that a card is SP without actually numbering the card. Sometimes they will announce how SP othertimes they will not.
Sticker - Normally used in reference to an autograph.The autograph is signed by the athlete on a sheet of stickers and then the card company puts the sticker onto the card. Most collectors prefer on card autos to sticker autos.
Swatch -
Tag - is the laundry tag of the game worn jersey, the part where your normal clothes tell you how it should be washed and what it is made of. But the NBA jersey tags don't have info like that, they sometimes come with the brand logo, mini team logo or nba logo etc.



Team Bag - A team bag is a larger size bag with a sealable top for storage or posting of toploaders to provide further protection.
Top Loader - A plastic card protector with an open top. Most traders use these for trading with stickytape across the top to avoid the card slipping out.
TTM - Through the mail. Refers most often to autographs sent and received personally to an athlete.
VHTG - Very Hard to Get. A card that is very hard to get from someone's collection
White envelope - These are not to be used on this site and negative feedback is to be left for anyone who does. They do not provide the card inside any protection.


WTB - wanted to buy
WTD - Short for wanted.
WTTF - short for wanting to trade for
XRC - Extended Rookie Card. A card that is not considered a players true RC. EG. Michael Jordan appeared in the 1984-85 Star set (XRC) as his 86-87 Fleer card is considered his true RC.
Thanks for all the input and to anyone who I've borrowed images from.
Last edited: