Select have announced the continuation of the weekly Hilites and Rising Star Nominee cards.
As per last year the process is :
• ⁃the price per Hilites or Rising Star Nominee card is $15 each, plus $5 flat rate postage
• ⁃the amount of each card ordered will determine the quantity printed (eg. If 75 are ordered then ONLY 75 are printed)
• ⁃cards will be uniquely numbered (eg. 1 to 75 if 75 are printed)
• ⁃orders of more than one card will have RANDOM NUMBERS sent
• ⁃consecutive numbers, or specific numbers STRICTLY CANNOT BE REQUESTED
• -cards are allocated at random, and NOT in the order they are placed via the website
• -no other products to be ordered in same order
• ⁃digitally printed to ensure fast turnaround
• ⁃please allow 21 WORKING DAYS from sales closing for delivery
There are a couple of notable differences from this year compared to last year;
++ Firstly, the number of the card you get is totally random, if you place the first order you will not get the number 1 card,
the number card you get will be selected randomly and sent out to you.
++ Secondly, the order period is for 24 hours only, not 48 hours as per last year.
For example the week 1 order period is from 10:00am Tuesday 26th March to 10:00am Wednesday 27th March.
Select have also produced a limited number of Hilites Albums for you to store them in, available for sale on their website. Cost is $15 + $5 postage, while stocks last.
I contacted Select in relation to the criteria for a player to be nominated as the weekly Hilites player and the decision is completely at Selects discretion, there are no minimum requirements.
However, in relation to the Rising Star Nominee for each week, that is selected by the AFL on a weekly basis, not Select.
Every round, an AFL rising star nomination is given to a standout young player who performed well during that particular round.
To be eligible to be nominated for the award, a player must be younger than 21 years of age on 1 January of the award year, and, have played 10 or fewer senior games before the beginning of the season. A player who is suspended during the season is not eligible to win the award but is still eligible for nomination.
2019 SELECT HILITES CARD PER ROUND ARE;
WEEK 1: ISAAC HEENEY, SYDNEY SWANS, NUMBER OF CARDS PRINTED IS 84.
WEEK 2: JORDAN DE GOEY, COLLINGWOOD, NUMBER OF CARDS PRINTED IS 143.
WEEK 3: JEREMY CAMERON, GWS GIANTS, NUMBER OF CARDS PRINTED IS TBA.
WEEK 4: ANTHONY MCDONALD- TIPUNGWUTI, ESSENDON, NUMBER OF CARDS PRINTED IS TBA.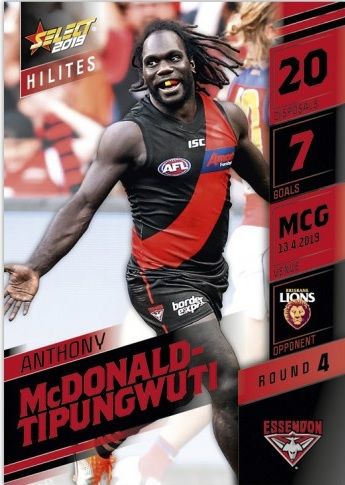 2019 SELECT RISING STAR NOMINEE CARD PER ROUND ARE;
WEEK 1: BAILEY SCOTT, NORTH MELBOURNE, NUMBER OF CARDS PRINTED IS 81.
WEEK 2: CHARLIE CONSTABLE, GEELONG, NUMBER OF CARDS PRINTED IS 100.
WEEK 3: CONNOR ROZEE, PORT ADELAIDE, NUMBER OF CARDS PRINTED IS TBA.
WEEK 4: SAM WALSH, CARLTON, NUMBER OF CARDS PRINTED IS TBA.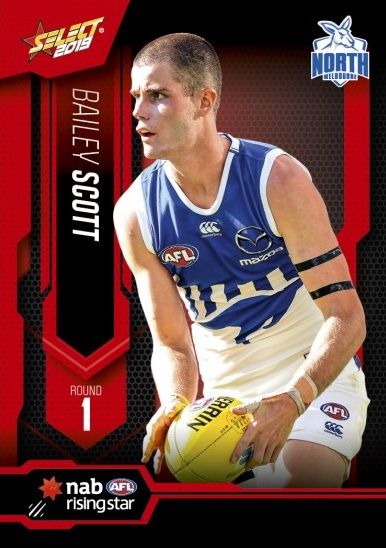 Last edited: